We Design & Develop Shoppable Custom
eCommerce Solutions
Easy Onboarding & Migration
Solid Inventory Management
Web Store & Mobile App
Order Processing & Fulfillment
CRM & Loyalty, Rewards, Promotion
Invoicing & Purchase Order
Vendor, Employee management
Accounting & Payment Integration
SEO & Social Integration
Multiple Channel Listing
Features We Provide In
Custom eCommerce Solution
Get any business online with end to end custom eCommerce platform
Sell Online Everywhere With One Platform
Simplify your workflow with intuitive inventory.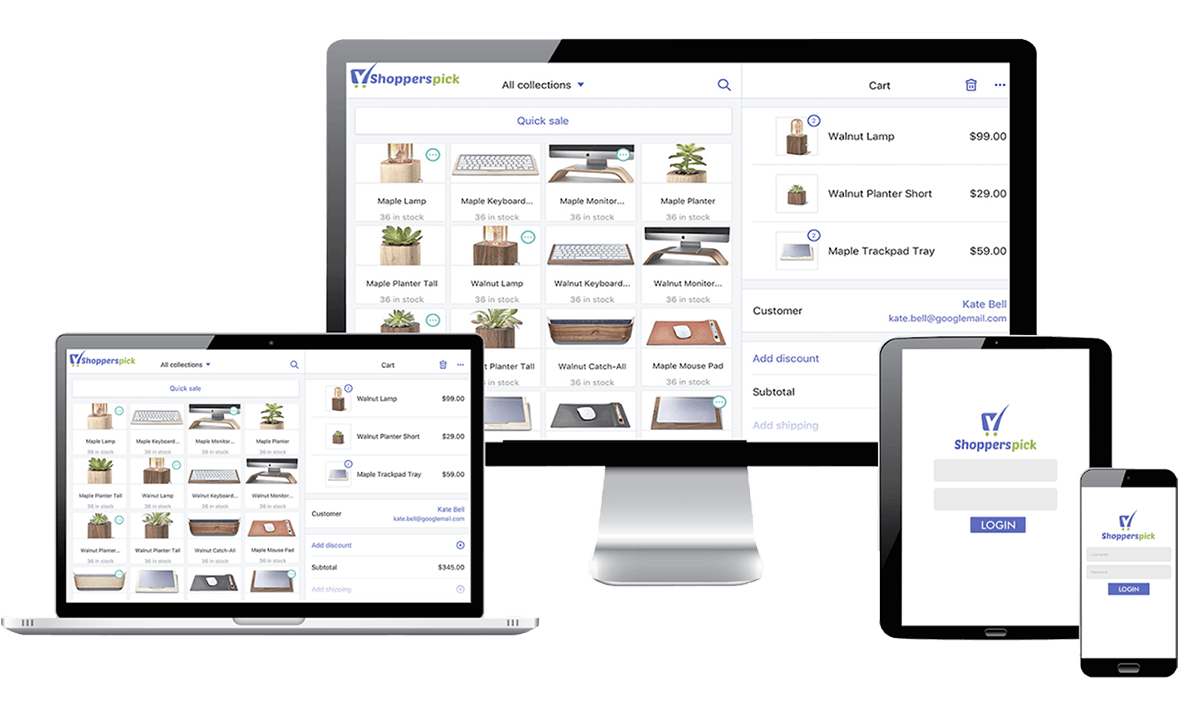 Smart web store with custom themes and branding
Insert product catalog and generate professional websites in minutes. Customized and changed things to match your business needs.
Create store on social platforms
Solutions provides the ability to create custom stores on multiple social media platforms like Google Store , Facebook Store, instagram Store.
Create store on eCommerce marketplace
Connect your stores to multiple eCommerce platforms like Amazon, eBay, Walmart, Rakuten, FlipKart .Manage and accept orders at single screen.
Get your store mobile ready
Solution provides a separate customizable mobile app to engage mobile customers.
Boost your physical store with POS
Solutions provides tools to manage your digital as well as physical store with ease. POS comes with hardware and software to manage your physical store.
Sync inventory and orders across store
Solutions keep inventory in sync with all your stores and show detailed dashboard reports about movement of inventory.
Market Your Business To Attract Every Shopper
Get your store in front of every shopper with smart Ads.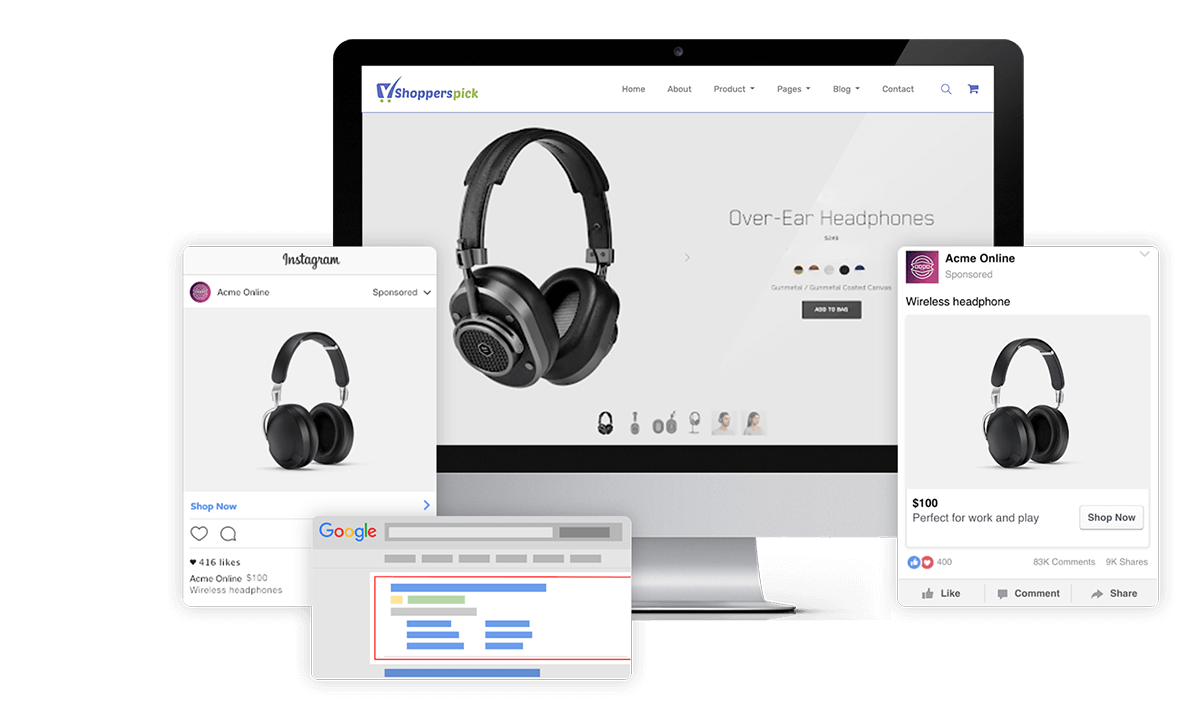 Market your store with Google Ads
Get your product on top search on the most powerful search engine with automated Google Ads. Solutions retarget the audience base on visit history.
Market your store with Facebook Ads
Create facebook campaigns in mins and auto generate ads based on product information on store.
Generate leads from webstore with attractive forms and live chat
Select most effective landing pages and web form multiple templates. Convert website visitors into leads with powerful live chat.
Retarget potentials buyers with different email Marketing
Create custom email templates as per your business requirements. Send bulk email and get real time reporting on every action.
Create custom audience with interest and intent
Create custom audiences from website visitors and existing leads and retarget them with effective email marketing.
Attract loyal customers with effective promotions and rewards
Create innovative and engaging promotions and rewards campaigns to boost sales.
Inventory Management With Custom Reporting
Simple and accurate Inventory management with custom Reporting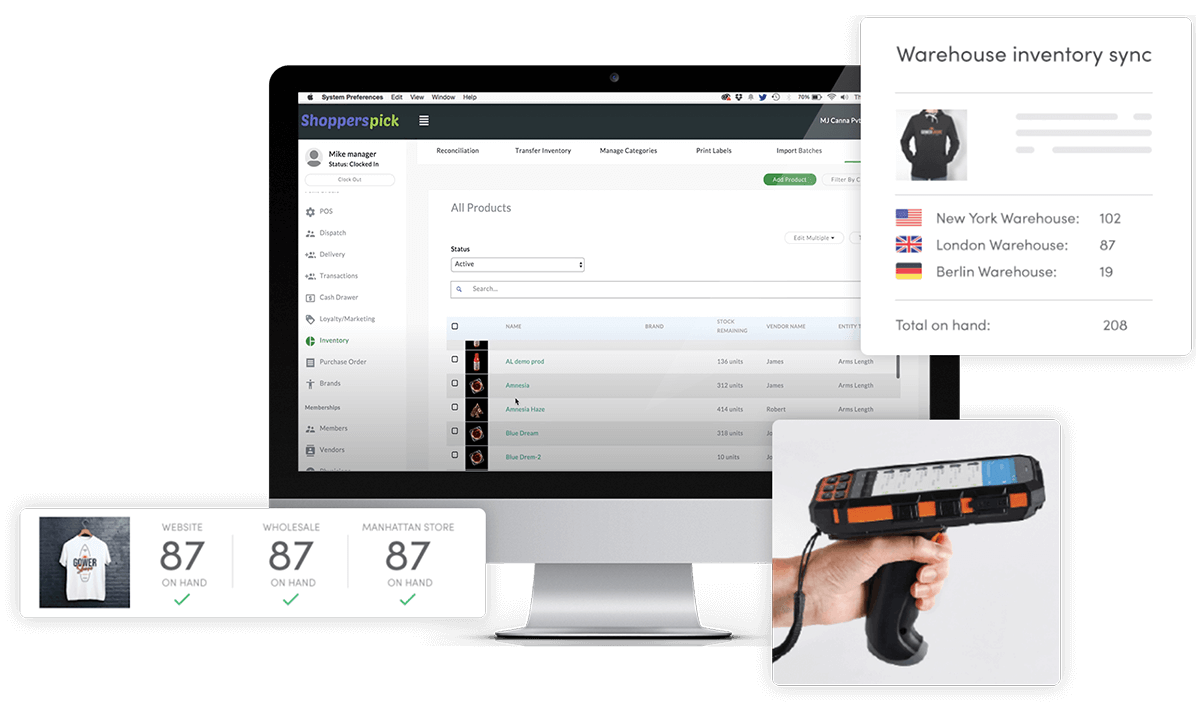 Create product with multiple Variants & Composites
Create products with all details and offer multiple variants of product. Platform generates separate SKUs for each product.
Create Purchase order and receive inventory
Create purchase order workflow with multiple approval processes and send PO instantly over email.
Track every movement of inventory across store and facility
Get unit count of each product with inventory location and historical details. Manage inventory transfer, inventory loss and Reconciliation with ease.
Bulk create and update inventory
Create, Transfer and Update bulk products with well defined sheet templates within minutes and ease.
Customized inventory reports as per business needs
Customized sales, inventory, profit and loss reports with a powerful report editor. Get meaningful insight with graphs and charts.
Optimized product page for SEO and retargeting
Add metatags and image information to optimized product page visibility. Add inbuilt social pixels to track every action on the product page.
Order Processing And Fulfillment Management
Everything you need to manage each order across the platform.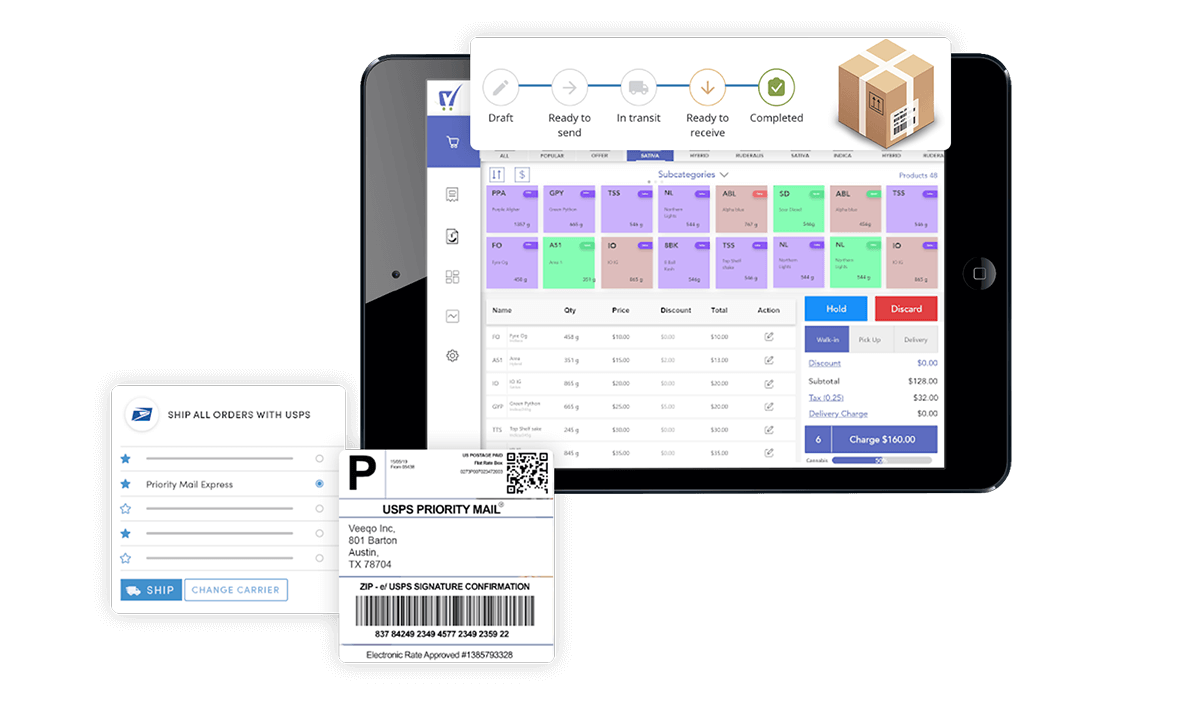 Centralized global inventory management
Centralized inventory management with ease to use interface, quick product view and manage your available, digital store and in store inventory.
Process and fulfill multiple orders from anywhere
Print shipping labels, Generating shipping manifest directly from the platform. Solution integrated with multiple shipping carriers to deliver packages to any location.
Received order from multiple sales channels
Get a single page dashboard to view all incoming orders from multiple channels.
Order tracking and customer support service
Track every movement of order and manage delivery from a centralized location. 24x7 customer support to provide every detail of order.
Handle return, exchange and dispute with ease
Reduce customer wait times when you process itemized exchanges and returns in a single transaction.
Detail reports with analytics to improve sales
Get inventory, sales trends and analytics reports to drive marketing and improve sales.
Customer Management With Loyalty & Rewards
Convert every leads into sales opportunity with effective customer engagement tools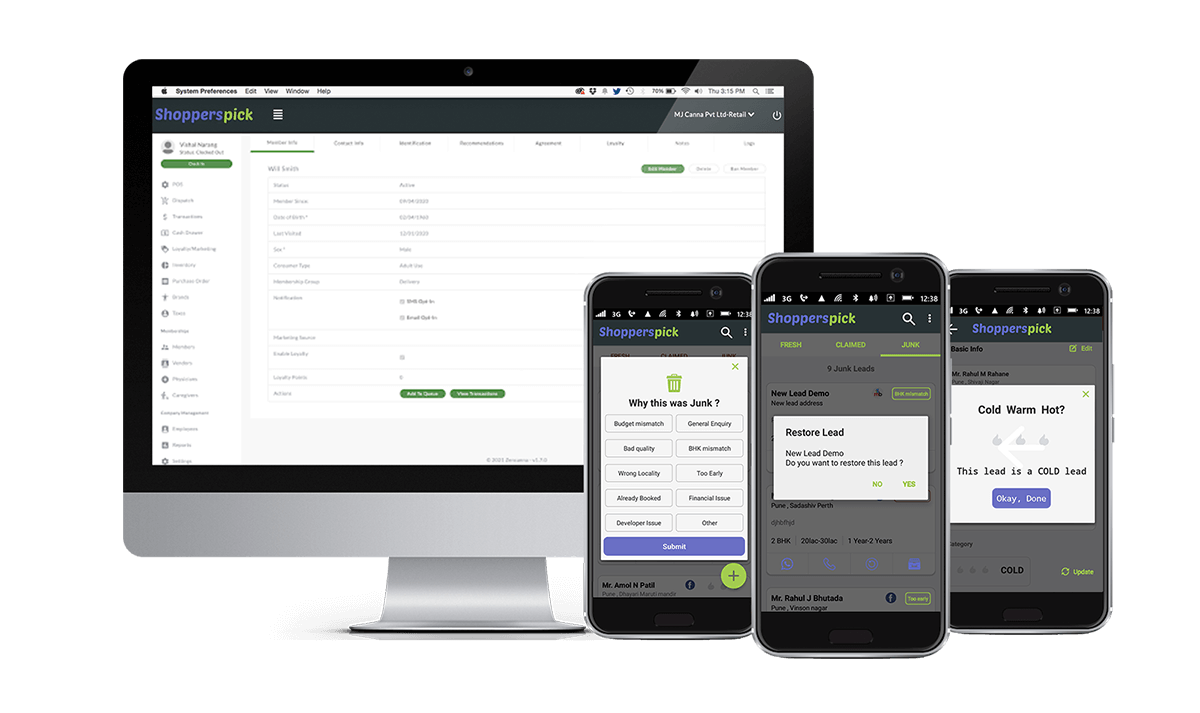 Gather all information related to lead and along with meaningful insights
Customized lead generation form as per requirement to gather meaningful information.
Get 360 view new and existing customer information
Solutions gather social and professional information about leads available over the internet to give 360 views of prospects.
Manage all customer details on single screen
Manage customer contact information, conversions history, contact owner and social information on one single screen to get every information on single click.
Create custom workflow to engage new and existing customers
Automating repetitive work with workflow, Rules helps you initial actions based on trigger events on specific conditions.
Get details and custom reports on customer
Track critical sales metrics with multiple customizable reports, convert sales reports into visual charts and graphs.
Seamless Accounting And Intgreated Payments
Secure and easy to use payments with end to end accounting capabilities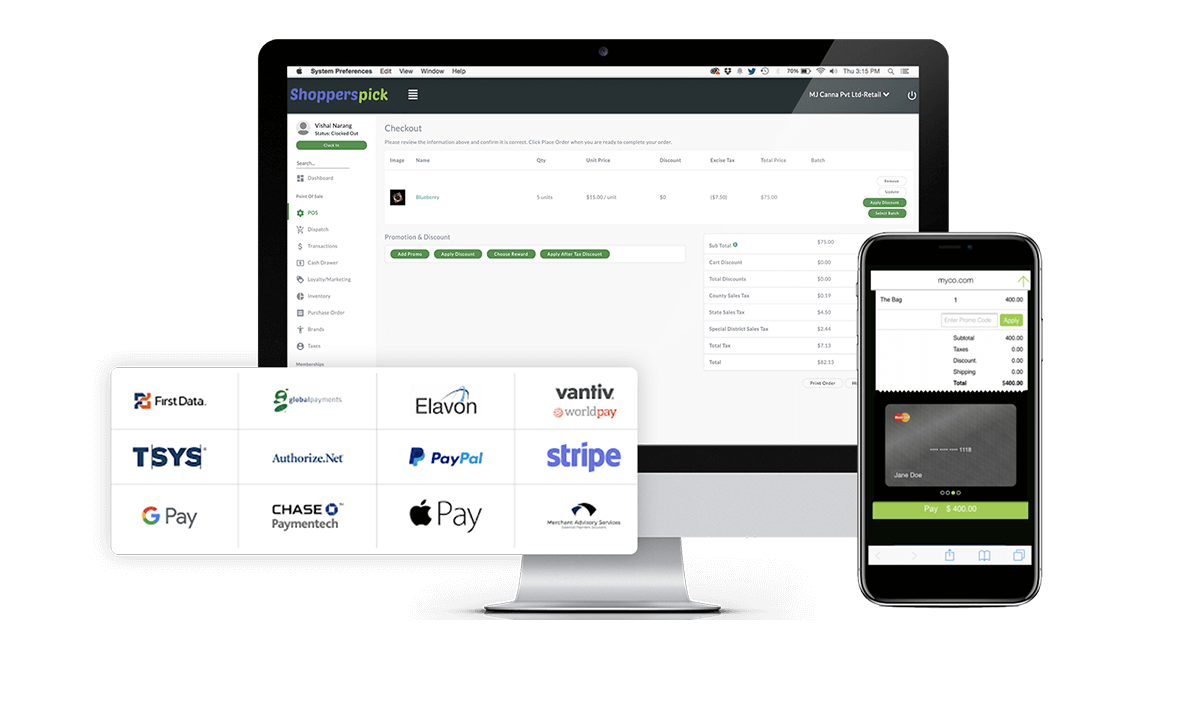 Integrated multiple payment gateways
Accept payment with Cards, Apple Payor Internet Bankor any other way, we are integrated with all major payment processors and payment gateways.
Data security (PCI) compliance
All customer information is encrypted and stored on a secure server. All sensitive payment information is stored on PCI Payment gateway.
Integrated with major accounting software like Quickbooks, Xero
Sync all sales, inventory, profit and loss with major accounting software to reduce mistakes and increase efficiency.
Send Invoices with payment links and notifications
Send professional custom branded invoices to clients and vendors with payment links and information.
Detail transaction reports with graphical representation
Get all sales, refund and expense reports with detailed transaction history .
How Can I Get
My Custom eCommerce Solutions?
The Development Cycle
Of eCommerce Platform
1

Share Your Requirement

Our team of business analysts and domain experts in the eCommerce domain take frequent calls with clients to understand custom requirements in detail.

2

In-Depth Analysis Requirement

Our domain expert team does detail study of requirements and create SRS (Software Requirement Specification) document

3

Deciding On Scope And Features

Based on the SRS document we take approval of scope and features and provide time and cost estimation for custom requirements.

4

Design Of The Custom eCommerce Solutions

Our UI/UX team works with business analysts to create screen flow design as per requirement document.

5

Get Started With Application Development

In this phase, the development team starts development of custom requirements. We follow Agile methodologies for development and update clients daily on progress.

6

Testing And Bug Fixes

We test solutions based on performance, speed, loading time, workload and more.

7

UAT And Final Release Of Application

In this phase, we provide access to the application to customers to get feedback and make changes as per suggested changes.

8

Launch Of The Application

In this phase, We deploy applications in production environments and make applications available to the public.

9

Documentations And Support

We provide an end to end user manual and monitoring tool to get notification on emergency.
Technologies and Frameworks
We Are Expert In
DevOps
Why 150+ Businesses Trust Thinkitive
For eCommerce Solutions
We are the fastest growing technology company with a year or year growth of 100%. The secrete of our success is that we keep it very simple. We focus entirely on understanding the product domain and what we can do using our technical expertise to make the product more user friendly without losing quality. We believe in first focusing on users of the product, then look for other factors.
We Respect your Time Zone
We understand it's essential to communicate to understand project requirements. We encourage certain overlapping hours with the client's timezone & daily standup meetings. In the case of production or emergency, our development team works in the client timezone to stabilize the development process.
Best Talent for your Project
All developers are inhouse, having been through our 4-stage interview process, including the programming test. We provide three months of training for both experienced and fresher candidates. We have certification courses to keep them updated. We have the right combination of technology and domain experts. Based on the requirement of the project, we provide the best matching profiles. We allow clients to take interviews or one-week trials to test resources.
Right tools & Process to track tasks
We use a mix of inhouse and standard tools to manage remote teams efficiently. You will be able to communicate with the team any time using Slack and Skype. We assign project managers to help technically and logically. We measure time versus tasks so you will be charged for what is being delivered. Our management team feedback to make sure all is well.
Delivered Successful Projects
Our development team has delivered more than 60+ applications, including from small, medium to enterprise scale. Our client retention ratio is above 85% and most of our business comes from references. We have an end-to-end experience of taking initial requirement gathering to perform the production-ready application performance testing. For each project, we assign domain experts to understand the business use cases of the project.
Frequently asked
Questions
1. What is eCommerce development?
eCommerce Development means creating a platform that will allow retail business owners to list products on digital store. Also nowadays retailers can list products on social stores like Facebook store, Google store and ecommerce marketplaces.
2. Why is eCommerce important for retail businesses?
Yes, you absolutely can. We are a leading Java application development company. Our SMEs will assist you in selecting the right framework for your project— cost-efficient, future-ready, fits the best in your existing IT ecosystem and meets your business objectives.
3. Which technology or Platform is best for eCommerce development?
Selection of platform and technology depends on multiple factors like user count, daily transactions and many other factors. We guide and provide a custom eCommerce platform as per your requirements.
4. How long does it take to build an eCommerce website?
We customized based eCommerce solutions based on your custom requirements.
5. Is there any limit to the size of my customer database or product?
There is no limit on the number of products or customers can be added on platforms and also we provide bulk upload and import.