Trueted by companies around the world




Hire Dedicated Python Developer in 3 Simple Steps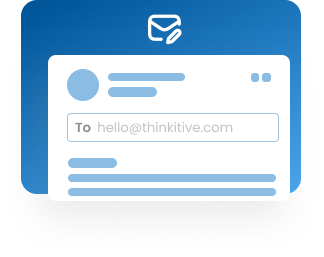 Share project requirements
Share your Python Development requirement. Our subject matter expert team will understand the requirements and share the best-matching candidate's CVs.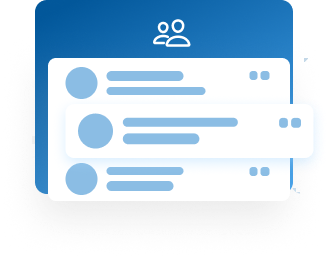 Interview and evaluate candidates
Evaluate Python developers based on technical and soft skills. Choose developers that best suit your Python development project requirements.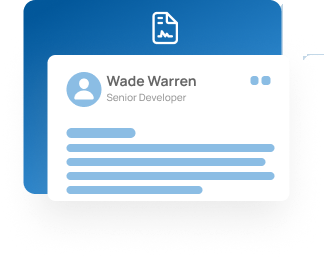 Onboard resource or team
Onboard Python developers in the next 48 hours by signing NDA and Service Level Agreements.
Build a Complete Python Project Team On-demand
Efficiently assemble a skilled Python development team tailored to your project needs. We offer on-demand hiring solutions as if they were your in-house developers.
300+ Technology Experts
We are a big family of 300+ technology experts with in-depth technology and domain understanding. We empower businesses to create teams of any size, ranging from 1-2 members to over 50 members, all within a single umbrella.
End-to-End Development
Our services encompass every facet of software development, including consultation, design, business analysis, development, DevOps, and testing. In addition, we offer ongoing support and maintenance for software systems.
Pre-Vetted Candidates
Our Python developers for hire undergo a screening or evaluation process before being recommended or hired. It involves various assessments of their technical skills, hacker rank testing, and certification to ensure they fit the job well.
Budget Friendly
We offer a competitive hiring rate as 100% of our team is in-house, guaranteeing maximum efficiency while minimizing costs. We offer a 15-day free trial before you hire Python programmer without any commitments.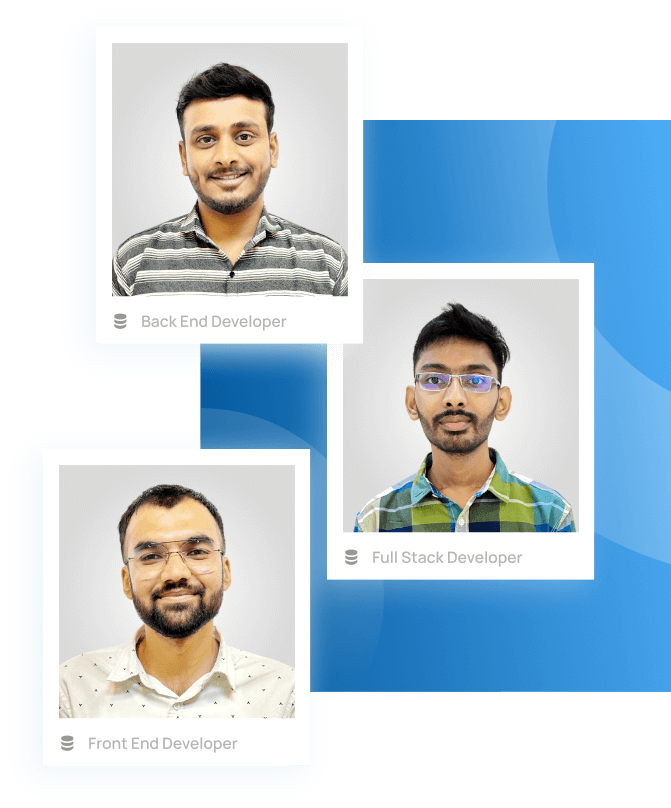 Are you looking for the best Python developers and programmers? We have you covered.
Don't settle for less. Hire a Python Programmer and experience seamless development with our top-rated developers.
Services We Offer
Our Python development services offerings are designed to meet every business need. We help businesses with ideas to conceive products, convert them to requirements, and forge them into scalable products.
Python Consulting and Architecture
Our subject matter experts provide expert advice and guidance to clients in Python application development and related services. We provide the best possible solution based on understanding business goals and requirements. Once we understand your requirements, our technology design solids architecture to your complex system needs.
Python Web Development
Our Python programmers build highly secure, dynamic, and reliable websites and web apps based on your requirements. Our engineers leverage top Python frameworks like Django, Flask, Web2Py, Pyramid, and Bottle to create highly functioning online applications.
Django Development
We have broad expertise in building engaging web applications using Django. We have on board a team of skilled and extensively trained Django developers. They assist you in creating the most profitable and interactive applications customized to your business needs.
Flask Web Development
We have development teams, infrastructure, and innovative application-building tools to provide world-class Flask web development services. We take on full Flask web development roles, from a simple adjustment to advanced redesigning. With years of software technology expertise, we have become a top Flask development service provider. Our staff has been tech-enabling clients worldwide who require the best flask web development services for almost decades.
Python Mobile Development
We can help you with anything from a backend design for your website to a data-heavy project with complicated computation. Our business analyst collaborates with you to understand your project requirements. We provide maintenance and support throughout the software development lifecycle.
Automated Testing
We offer experienced software testing methods that use automated tools, frameworks, and scripts for testing the software. Leveraging test automation reduces regression time and quality releases within the testing life cycle. Our software testers are experts in creating automated test scripts, including Python, C#, Ruby, Java, and more.
Python AI/ML Services
We offer some of the best AI & ML development services. To develop AI & ML applications faster, our engineers employ libraries and frameworks such as sci-kit-Learn, TensorFlow, NLTK, and Keras.
Python Migration and Integration
We have a team of developers who can help you migrate your web application to Python. In this procedure, they maintain compatibility, plugin updates, security, and version upgrading of the web application. Our developers will do Python migration and integrate services with no data loss.
Python Development Technologies & Frameworks
Python Platforms
Python 2,3, Cython, PyPy
Python Frameworks
Django, Flask, Starlette, FastAPI, Web2Py, Bottle
Persistence/ORM Tools
DjangoORM, PyMongo, SQLAlchemy, Peewee, Pony, SQLObject
Architecture
Enterprise, SOA, Microservices
Development Tools
JupyterNotebooks, RStudio, PyCharm, Visual Studio Code
Reporting & Business Intelligence
JupyterNotebooks, RStudio
UI Frameworks
ReactJS, AngularJS, VueJS, JSP, JSF (Primefaces, Richfaces), JQuery, JS
Database
PostgreSQL, MySQL, MongoDB, Cassandra, Druid, Elasticsearch
Python Frameworks
Django

Flask

Starlette

FastAPI

Web2Py

Bottle
Persistence/ORM Tools
DjangoORM

PyMongo

SQLAlchemy

Peewee

Pony

SQLObject
Architecture
Enterprise

SOA

Microservices
Development Tools
JupyterNotebooks

RStudio

PyCharm

VS Code
Reporting & Business Intelligence
JupyterNotebooks

RStudio
UI Frameworks
ReactJS

AngularJS

VueJS

JSP

JSF

JQuery

JS
Database
PostgreSQL

MySQL

MongoDB

Cassandra

Druid

Elasticsearch
Benefits of Hiring Our Python Developers Team
Free Manager Services
We assign a free project manager irrespective of the number of Python developers you hire. The project manager will be responsible for project planning, timeline, and defining project goals and deliverables. The project manager will ensure you get quality output throughout your engagement with Thinkitive.
Monitor Project Progress
Ensure Client Satisfaction
Accountable for Deliverables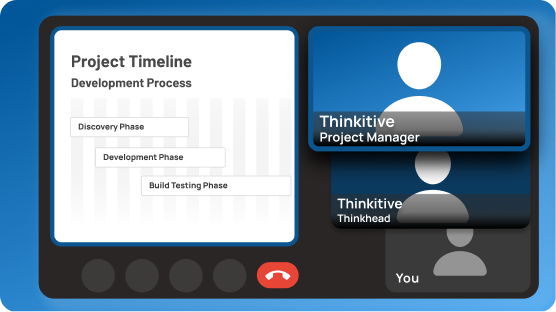 Daily & Monthly Timesheet Updates
When you hire offshore Python developers from us, we furnish daily reports and timesheets summarizing tasks completed, roadblocks faced, and project milestones achieved. A detailed timesheet is shared at month-end to evaluate team tasks and hours spent per task, enabling you to assess payment based on work completed.
Track & Evaluate Progress
Pay only for Quality Work
Manage Time Effectively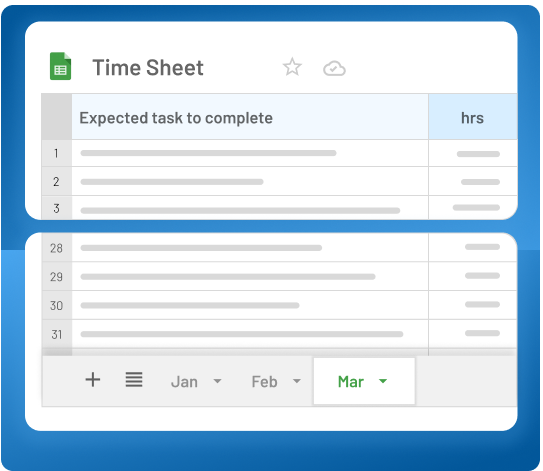 Talent Replacement Policy
For any reason, a Python developer we have placed with your company does not satisfy your expectations, or the developer is unavailable due to unavoidable circumstances. We keep 10% backup resources that can immediately replace existing developers with the same level of expertise without interrupting your project progress.
Free Developer Replacement
Minimising Project Disruption
Replace Resources in the Week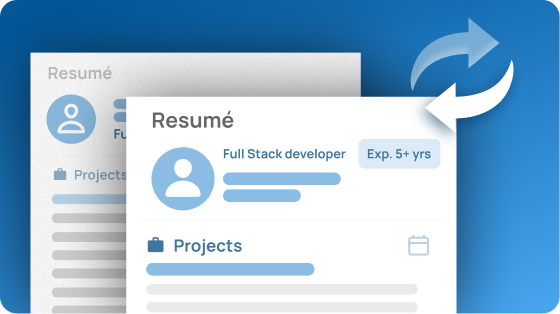 Effective Project Management and Collaboration Tools
Interactive Communication Tools
We streamline processes and workflows using communication tools, which leads to enhanced efficiency. We provide real-time updates and access to data to our stakeholders to better understand the project's progress toward a goal.
CI/CD Pipelines
We offer continuous integration and create end-to-end CI/CD pipelines by building, testing, and deploying code using agile development methodology.
UI/UX Tools
Designers use collaborative interfaces and vector-based design tools to provide intuitive design to your unique Python development project.
Coordinated Project Management Tools
Our Python developers for hire utilize project management tools to present reports that give stakeholders a high-level perspective of the project's progress.
Code Management
Python development team uses a version control system (VCS) or subversion to track changes, manage code versions, and collaborate with team members.
Why Hire Python Developers from Thinkitive?
We have a team of 45+ Python developers with an average experience of 5+ years. Our Python programmers for hire are proficient in Python web frameworks (e.g., Django, Flask), data analysis libraries (e.g., Pandas, NumPy), and databases (e.g., MySQL, PostgreSQL). Our team of Python experts writes clean, efficient, and maintainable code. Furthermore, we offer Python development services at competitive prices while maintaining high-quality standards. Our track record of success is evidenced by our ability to complete projects within the stipulated timeframes and deliver exceptional results.
45+
Experience Python Developers
113+
Successful Project Delivered
87%
Client Retention Rate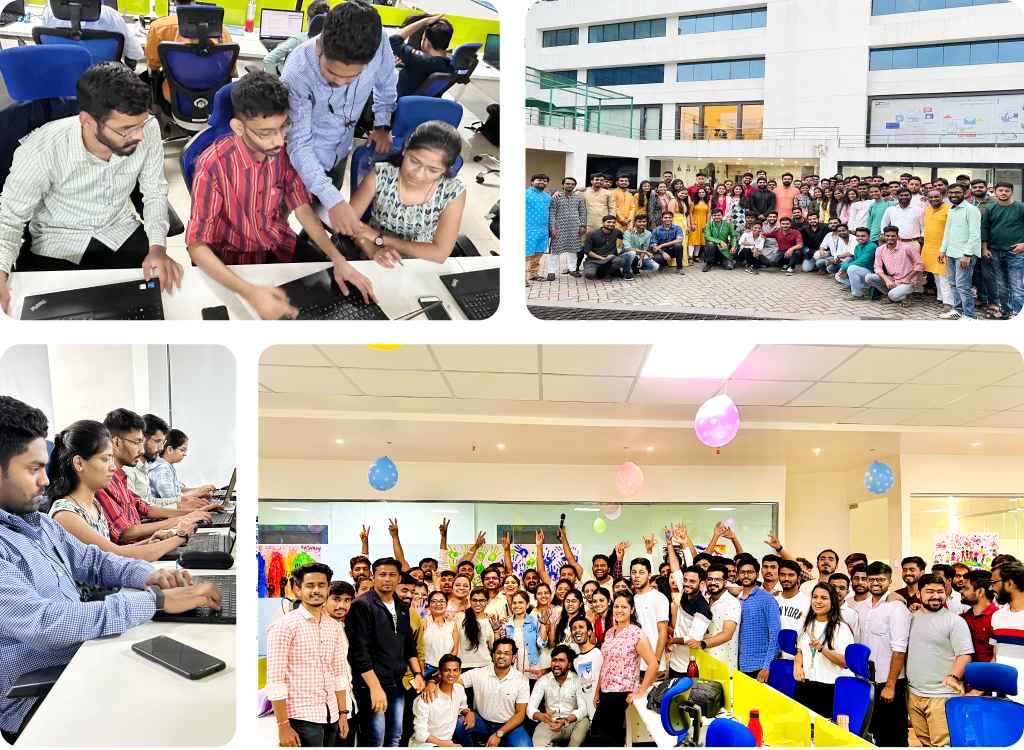 Hire Python Developers as per your need
Simple & Transparent Pricing | Fully Signed NDA | Code Security | Easy Exit Policy
We'll provide a fully signed NDA for your Project's confidentiality
3 to 5 Years of Exp. Python Developer - 160 hours
Fixed Cost
Solution
Get a Free Estimation based on Your Custom Requirements
Time & Material Model
This model suits projects where requirements constantly evolve or need clarification. You will need to provide the project's initial scope so we can create a phased plan.
Flexibility to change the scope

Work delivered as per sprint

Better control of cost

Pay when a milestone is achieved
Dedicated Team
This model is ideal for a team that needs to be expanded using remote resources to achieve engagement. To ensure successful execution, it is essential to equip these remote resources with all the necessary skills to perform effectively. This approach enables teams to work collaboratively towards a common goal despite being geographically dispersed.
Guaranteed 160 hours of man-power

Daily code commit

Quick replacement

Pay only for measurable work
Fixed Price Model
We ensure project will be completed within given budget and timeline by breaking it into milestones with precise deliverables. We take approval from client on each stage.
Fixed scope and no flexibility

Work delivered as per milestones

Fixed cost and timeline

Pay when the target is achieved
Transform your ideas into reality with our experienced Python developers
Hire Python programmer who can accelerate your Python development projects, ensuring high-performance web applications with timely deliverables.
Monthly

Full-Time Hourly

Part-Time Hourly

Daily Hours
8 hours
8 hours
4+ Hours
Hiring Models
≥3 months
≥2 months
≥1 month
Hiring Benefits
5% Discount
1% Discount
None
Payments
Fixed monthly pay
Based on Hours
Based on hours
Temp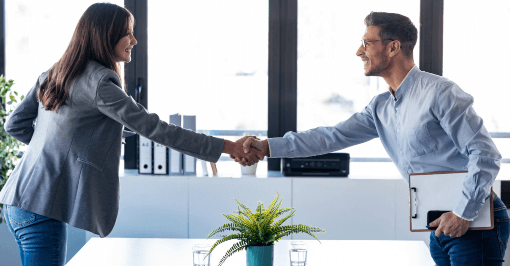 Contract Lifecycle Management and Automating Analytics
Contract Lifecycle Management was modernized, bugs were fixed, and PRs in Insights & Analytics were automated using Jenkins...
Temp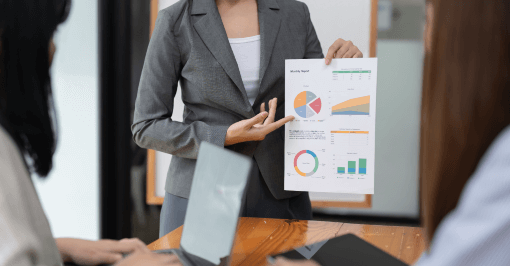 Solution for generating analytical reports for Telehealth company
Learn how Thinkitive helped a US-based telehealth company create analytical reports empowering them to make informed decisions with real-time data...
+
Temp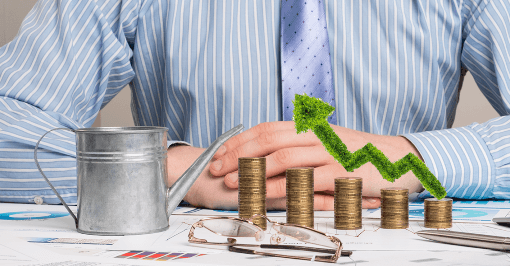 Built Seed capital Investment Planning Application.
Learn how Thinkitive built a user-friendly simulation tool with ReactJS and Flask, integrated with AWS services for speed, scalability, and security...
Frequently Asked Questions
Python is a popular high-level programming language for web development, data analysis, artificial intelligence, scientific computing, and more. It has a simple syntax and a large community of developers. Various types of applications can be developed using Python, such as web applications, data analysis tools, machine learning models, and automation scripts.
A Python Developer is responsible for developing and maintaining Python applications. They write clean, efficient, well-documented code, collaborate with cross-functional teams to identify and solve problems and use various tools and frameworks to create robust and scalable software solutions.
Hire Python Programmer from Thinkitive in 3 simple steps-
Share your Python project requirements, and we will share the Python developer's CVs.
Conduct in-depth interviews with top candidates to test technical skills through coding challenges or projects.
On-board the best Python developers within 48hrs after signing NDA.
Are you looking to hire remote Python developer? Get in touch with us to hire Python programmer today!
When you plan to hire a Python developer, you should look for technical skills such as proficiency in Python programming, knowledge of web frameworks (e.g., Flask, Django), experience with databases (e.g., MySQL, PostgreSQL), familiarity with front-end technologies (e.g., HTML, CSS, JavaScript) and understanding of software development principles and best practices.
Looking for top-notch Python developers?
We offer a complete solution to fulfill your requirements. Hire a Python programmer from us and create highly efficient customizable web applications that meet your specific needs, exceeding your expectations.
The average rate to Hire Python developers ranges from $18 to $28. It can vary widely depending on their location, experience level, and specific skill set.
Thinkitive's Python development services stand out due to their expertise in Python programming, agile development methodologies, and the latest tools and technologies. We offer end-to-end Python development solutions customized to meet their client's unique needs, ensuring scalability, security, and cost-effectiveness.
Our in-house Python developers can start working on your project within 48 hrs if hired. The time it takes to kick-start a Python development project can vary depending on its scope and complexity.
It is unusual to happen. However, if you are unsatisfied with the Python developer we have placed in your project, we have a 10% resource backup and will instantly replace the developer to start working immediately.
Our Python developers provide regular updates on the project status through preferred project management tools like Trello or Asana. We set up a schedule for updates based on your preference and the project timeline.
To ensure the quality of Python development work, it's essential to establish coding standards, conduct code reviews, perform testing and debugging, use version control, and document the code. Static analysis, code profiling, and automated testing can help identify potential issues and ensure high-quality code.
Our services encompass support and maintenance after the launch of your project, which includes rectifying bugs, implementing security updates, optimizing performance, improving features, and providing technical assistance. The Service Level Agreement (SLA) lays out the details of the support's range and duration, along with the terms and conditions of the agreement.
Our in-house Python developers can start working on your project within 48 hrs if hired. The time it takes to kick-start a Python development project can vary depending on its scope and complexity.
Yes, you can hire dedicated Python developer for project-based tasks. Hire Python coder who will work exclusively on your project for a set period, providing you with the necessary skills and expertise to complete your project on time and within budget.
Our Python Development services include Python web development, data analysis, machine learning, artificial intelligence, automation, and scripting. We also offer consulting, troubleshooting, and maintenance services for existing Python projects.
Our Python programmers for hire has an average of 5+ years of experience and expertise in utilizing modern tools & technologies that are instrumental in creating robust and scalable web applications while ensuring on-time project delivery and top-quality services.
Contact us to hire Python web developers today!