Trusted by companies around the world






Services
PHP Development Services
We provide comprehensive PHP development services. Our offerings cater to projects of all scales, ranging from small PHP MVPs and mobile apps to high-quality custom PHP application development.

Custom PHP Web Development
We create tailored web solutions by utilizing PHP's capabilities, including dynamic content, database integration, and user-friendly interfaces. Our services typically encompass requirements analysis, system design, coding, testing, deployment, and ongoing maintenance. We ensures efficient and secure websites, catering to unique business needs while adhering to industry best practices and delivering seamless user experiences.

Full-Stack PHP Development
We offer end-to-end solutions for web applications using PHP technology. Our services encompass front-end and back-end development, including UI/UX design, responsive layouts, server-side scripting, database integration, API creation, and system architecture. We ensure seamless user experiences, efficient data processing, and comprehensive functionality, catering to clients' diverse business needs within a dynamic digital environment.
PHP API Development & Integrations
We specialize in API development and integrations and offer services to create robust and efficient APIs using PHP. It includes designing, developing, and implementing APIs tailored to business needs. We facilitate seamless API integration with existing systems, web applications, or third-party services, ensuring smooth data communication and interaction. Our PHP developers ensure secure, scalable, well-documented APIs for enhanced functionality and improved user experiences.
Custom CRM, ERP & CMS Development
We specialize in creating custom CRM, ERP, and CMS solutions. We offer tailored software development, incorporating features like user-friendly interfaces, data management, workflow automation, and scalability. Our services encompass design, development, integration, testing, and ongoing support, ensuring clients receive efficient, secure, and adaptable solutions for their business needs.
PHP Website Support & Maintenance
We provide comprehensive support and maintenance services for PHP websites. It includes regular updates, bug fixes, security patches, performance optimization, database management, server monitoring, and troubleshooting. We ensure seamless functioning, swift issue resolution, and continuous enhancement to sustain the website's reliability, security, and user experience.
PHP Web APP Upgradation & Migration
We analyze existing codebases, upgrade PHP versions, modernize frameworks and libraries, enhance security and performance, ensure compatibility, seamless database migration, UI/UX improvements, and rigorous testing. We manage the entire process to ensure a smooth transition and enhanced functionality while minimizing downtime and risks associated with migration.
Why Us?
Why is Thinkitive the Best PHP Development Company?
We have 9+ years of experience in PHP development and have a proven track record of delivering projects on time and within budget. Our team of expert PHP developers is up-to-date with the latest PHP trends and technologies. They are proficient in PHP programming language and its framework (such as Laravel, Symfony, CodeIgniter, etc.). They also have a solid understanding of working with databases, including MySQL, PostgreSQL, MongoDB, etc. Our PHP developers implement rigorous testing procedures to ensure bug-free code and reliable application functionality. We ensure your project is secure, scalable, and built using best industry practices.
30+
Experienced PHP Developers
45+
Successfully Delivered
87%
Client Retention Rate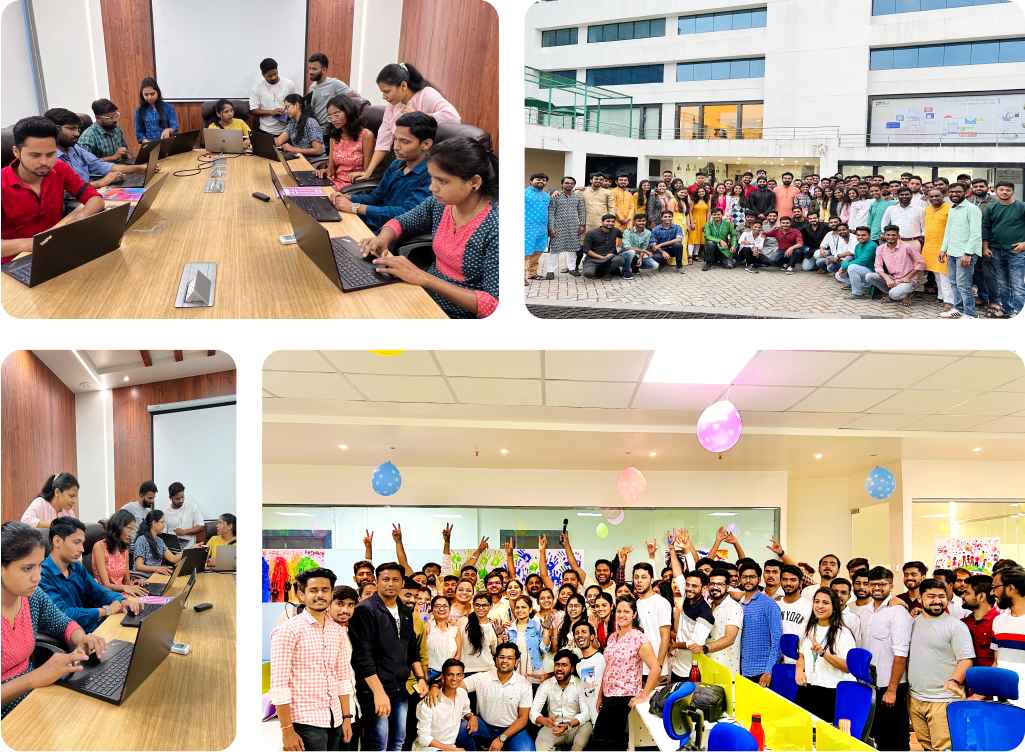 Work At Your Timezone

Free Development Manager

Easy Communication
Tech Expertise We Possess
PHP Technologies and frameworks Thinkitive Excels At
PHP Frameworks and Platforms









Start Your Project
How To Get Started with Custom PHP Development?
1
Tell us about your PHP project
Share your PHP project requirement with us. Our Subject matter & PHP experts will work on understanding your unique requirements.
2
Get PHP project quotes & timeline
Our Subject matter & PHP experts create a detailed proposal that includes the project scope, estimated timeline, and cost.
3
Finalized and approved scope
Our Subject matter & PHP team collaborates with clients to gather stakeholders' input, document the scope, review and refine it, and obtain final approval.
4
Contract Signing and kickstart
We create a contract outlining terms and deliverables before we sign it with the client to kickstart PHP development.
Benefits
Benefits of Hiring Thinkitive PHP Development Team
9+ Years of Excellent Track Record
We have 9+ years of exceptional track record in delivering successful projects exceeding client expectations. Our experience extends across diverse projects, possibly encompassing various industries or sectors.
30+ Pre-vetted Developers
Our PHP developers have a comprehensive understanding of software development principles and technologies and offer customized solutions to meet industry-specific requirements with expertise.
End-to-End Development
We create and deliver a software product, encompassing all stages from initial concept and design to coding, testing, deployment, and maintenance, ensuring a seamless workflow and offering a complete solution from start to finish.
Budget-Friendly Development Team
Our team of experienced professionals is committed to providing cost-effective development services tailored to your needs. We specialize in delivering high-quality solutions without compromising quality or efficiency.
Time-Zone Flexibility & Availability
We understand that your project requires round-the-clock attention, and that's precisely what we offer. We seamlessly adapt to the client's preferred schedule, enabling effective communication, uninterrupted progress, and timely deliveries.
Effective Communication & Collaboration
Our team is equipped with the essential skills and tools to ensure seamless coordination throughout every project phase. By fostering clear lines of communication and encouraging active collaboration, we maximize efficiency and deliver outstanding results.
PHP Developers - Project Management and Collaboration Tools
Interactive Communication
When you hire PHP developer online, we streamline processes and workflows using communication tools, which leads to enhanced efficiency. We provide real-time updates and access to data to our stakeholders to better understand the project's progress toward a goal.
CI/CD Pipelines
We offer continuous integration and create end-to-end CI/CD pipelines by building, testing, and deploying code using agile development methodology.
UI/UX Tools
Designers use collaborative interfaces and vector-based design tools to provide intuitive design to your unique PHP development project.
Coordinated Project Management
Our team of PHP coders for hire utilizes project management tools to present reports that give stakeholders a high-level perspective of the project's progress.
Code Management
The development team uses a version control system (VCS) or subversion to track changes, manage code versions, and collaborate with team members.
Engagement Model
Engagement model for PHP Development
Time & Material Model
This model suits projects where requirements constantly evolve or need clarification. You will need to provide the project's initial scope so we can create a phased plan.
Flexibility to change the scope

Work delivered as per sprint

Better control of cost

Pay when a milestone is achieved
Dedicated Team
This model is ideal for a team that needs to be expanded using remote resources to achieve engagement. To ensure successful execution, it is essential to equip these remote resources with all the necessary skills to perform effectively. This approach enables teams to work collaboratively towards a common goal despite being geographically dispersed.
Guaranteed 160 hours of man-power

Daily code commit

Quick replacement

Pay only for measurable work
Fixed Price Model
We ensure project will be completed within given budget and timeline by breaking it into milestones with precise deliverables. We take approval from client on each stage.
Fixed scope and no flexibility

Work delivered as per milestones

Fixed cost and timeline

Pay when the target is achieved
Versatile PHP Developers
Outstanding projects delivered by PHP programmers
Frequently Asked Questions
Still have questions ?
PHP is a popular server-side scripting language used to build dynamic web applications. PHP developers use it to create, test, and maintain web applications and work with databases and frameworks.
PHP is a popular and widely supported language for building web applications. It is easy to learn, flexible and has a vast library of tools and frameworks. It also has strong community support and is compatible with various operating systems and web servers.
Yes, we can help you build your website using PHP. We have an experienced PHP programmer for hire who can work with you to create a custom website based on your requirements.
PHP can build various software applications and websites, including
Content Management Systems (CMS)
Content Management Systems (CMS)
Social networking websites
Social networking websites
Blogs and forums
Online booking systems
Web-based applications and tools
Educational and e-learning platforms
Online marketplaces
Media and entertainment websites
It takes approximately 48 hours for the development team to establish their working environment, install the necessary software and tools, and acquaint themselves with the project's specifications and design.
We use project management tools such as Jira, Trello, or Asana to monitor and update the progress of our projects. This aids us in adhering to the project plan and enables us to swiftly identify and address any potential problems or concerns.
We use some common project management methodologies for PHP projects, such as:
Agile Methodology: This methodology emphasizes iterative development, continuous feedback, and collaboration between team members. It involves breaking down the project into smaller tasks and completing them in short iterations or sprints.
Waterfall Methodology: This methodology follows a linear, sequential approach to project management, where each project stage is completed before moving on to the next. This can be useful for projects with well-defined requirements and a clear timeline.
Hybrid Methodology: This methodology combines Agile and Waterfall methodologies to create a customized approach that fits the project's needs.
This methodology combines Agile and Waterfall methodologies to create a customized approach that fits the project's needs.
We implement several measures to ensure the quality of PHP development work:
We do code reviews through code analysis by peers or senior developers to check for errors, adherence to coding standards, and code efficiency.
We utilize automated testing tools to run tests automatically and detect any bugs or errors in the code. This helps to ensure the code quality and eliminates the need for manual testing.
Our continuous integration and delivery (CI/CD) practices enable our developers to continuously test and deploy code changes, ensuring the code quality remains high throughout development.
We do Quality Assurance(QA) Testing to comprehensively examine the code and product to check for defects or errors. It is done by manual testing or automated tools, which helps ensure code quality.
Our developers follow best practices and adhere to coding standards, ensuring the code is readable, maintainable, and high-quality. It includes using meaningful variable names, avoiding duplicated code, and commenting on the code where necessary.
We offer support and maintenance services after the launch of your project. Our services cover bug fixing, security update implementation, performance optimization, feature enhancement, and technical assistance. The Service Level Agreement (SLA) outlines the specifics of the support's scope and duration and the terms and conditions of the agreement to hire PHP developers.