Trusted by companies around the world






Services
Prompt Development Services
We provide comprehensive Prompt software development services encompass Prompt Consultation, architecture, application development, and deployment. Our offerings cater to projects of all scales, ranging from small to extensive enterprise or microservice-based Prompt application development.

Strategy and Consulting
We specialize in market analysis, business growth strategies, technology implementation, and process optimization. With a client-centric approach, we provide tailored solutions to enhance operational efficiency, foster innovation, and achieve sustainable success for businesses across various industries.

Analysis Service
Our comprehensive Analysis Services include data collection, interpretation, and insights generation. We are experts utilizing advanced tools to dissect complex data, identify trends, and provide actionable recommendations for informed decision-making. With a focus on accuracy and efficiency, we assist clients in unlocking valuable insights from their data to drive business growth.

Design and Testing
We design custom language models, fine-tuning pre-trained models, and creating conversational agents. Our testing services involve quality assurance, data validation, and performance evaluation to ensure the models' accuracy, efficiency, and safety in various applications such as chatbots, virtual assistants, and content generation systems.

Integration and Optimization
We adeptly integrate diverse systems and applications, ensuring smooth data flow and functionality. Our optimization expertise enhances performance, scalability, and efficiency, maximizing the potential of integrated solutions. Streamlining processes, we empower businesses to achieve heightened productivity and deliver exceptional user experiences.
Why Us?
Why is Thinkitive the Best Prompt Development Company?
We have expertise in crafting engaging and contextually accurate AI prompts. It includes a deep understanding of diverse subjects, impeccable language proficiency, and the ability to create prompts that generate desired responses. We have a strong knowledge of linguistics, psychology, and user interactions to produce effective and coherent AI-generated content. We have a track record of delivering innovative and impactful AI-driven prompts on time and within budget.
10+
Experienced Prompt Developers
15+
Successfully Delivered
87%
Client Retention Rate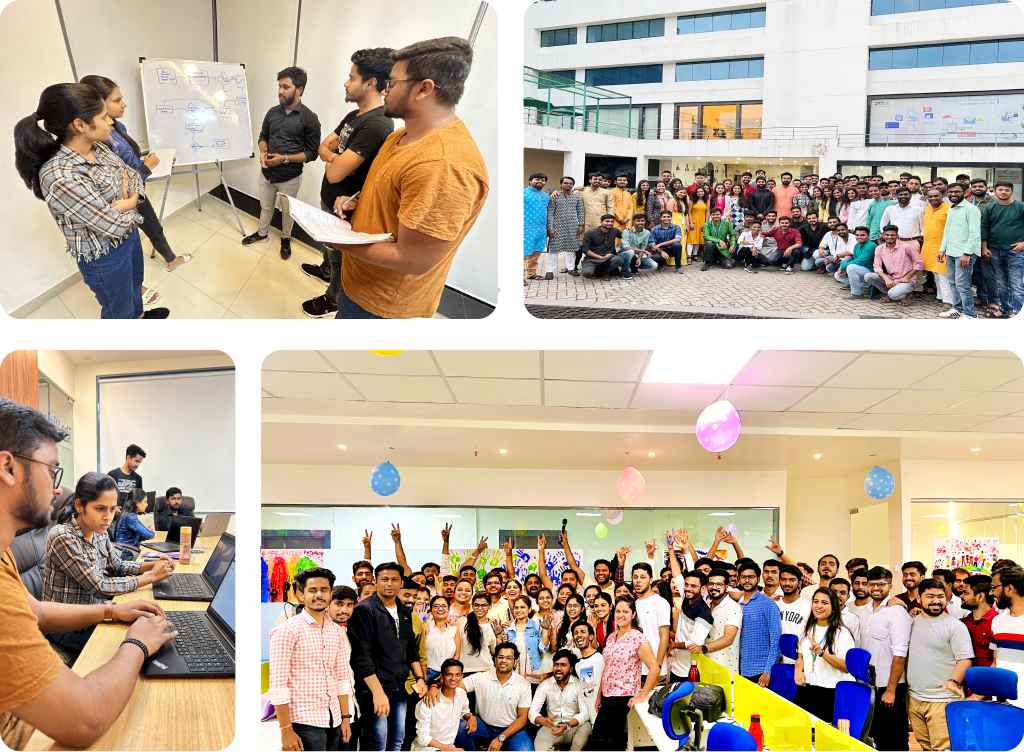 Work At Your Timezone

Free Development Manager

Easy Communication
Tech Expertise We Possess
Prompt Technologies And Frameworks Thinkitive Excels At
































Start Your Project
How To Get Started with Custom Prompt Development?
1
Tell us about your Prompt project
Share your Prompt project requirement with us. Our Subject matter & Prompt experts will work on understanding your unique requirements.
2
Get Prompt project quotes & timeline
Our Subject matter & Prompt experts create a detailed proposal that includes the project scope, estimated timeline, and cost.
3
Finalized and approved scope
Our Subject matter & Prompt team collaborates with clients to gather stakeholders' input, document the scope, review and refine it, and obtain final approval.
4
Contract Signing and kickstart
We create a contract outlining terms and deliverables before we sign it with the client to kickstart Prompt development.
Benefits
Benefits of Thinkitive Prompt Software Development Services
In-Depth Expertise
As a leading Prompt software development company, we demonstrate expertise in fine-tuning AI models, creating effective prompts, improving model behavior, and adapting to evolving user needs, all while achieving positive outcomes in various applications.
10+ Pre-vetted Engineers
Our Prompt Engineers craft prompts to elicit specific AI model responses, iteratively refining language inputs to enhance model performance, usability, and user experiences.
End-to-End Development
We design and refine the input instructions or prompts used to interact with a machine learning model, ensuring they effectively convey the desired task and produce desired outputs, often in natural language processing tasks.
Budget-Friendly Development Team
Our team of experienced professionals is committed to providing cost-effective development services tailored to meet your specific needs. We specialize in delivering high-quality solutions without compromising quality or efficiency.
Time-Zone Flexibility & Availability
We understand that your project requires round-the-clock attention, and that's precisely what we offer. We seamlessly adapt to the client's preferred schedule, enabling effective communication, uninterrupted progress, and timely deliveries.
Effective Communication & Collaboration
Our team is equipped with the essential skills and tools to ensure seamless coordination throughout every project phase. By fostering clear lines of communication and encouraging active collaboration, we maximize efficiency and deliver outstanding results.
Prompt Developers - Project Management and Collaboration Tools
Interactive Communication
When you hire Prompt developer online, we streamline processes and workflows using communication tools, which leads to enhanced efficiency. We provide real-time updates and access to data to our stakeholders to better understand the project's progress toward a goal.
CI/CD Pipelines
We offer continuous integration and create end-to-end CI/CD pipelines by building, testing, and deploying code using agile development methodology.
UI/UX Tools
Designers use collaborative interfaces and vector-based design tools to provide intuitive design to your unique Prompt development project.
Coordinated Project Management
Our team of Prompt coders for hire utilizes project management tools to present reports that give stakeholders a high-level perspective of the project's progress.
Code Management
The development team uses a version control system (VCS) or subversion to track changes, manage code versions, and collaborate with team members.
Engagement Model
Thinkitive Hiring Model- Engagement and onboarding
Time & Material Model
This model suits projects where requirements constantly evolve or need clarification. You will need to provide the project's initial scope so we can create a phased plan.
Flexibility to change the scope

Work delivered as per sprint

Better control of cost

Pay when a milestone is achieved
Dedicated Team
This model is ideal for a team that needs to be expanded using remote resources to achieve engagement. To ensure successful execution, it is essential to equip these remote resources with all the necessary skills to perform effectively. This approach enables teams to work collaboratively towards a common goal despite being geographically dispersed.
Guaranteed 160 hours of man-power

Daily code commit

Quick replacement

Pay only for measurable work
Fixed Price Model
We ensure project will be completed within given budget and timeline by breaking it into milestones with precise deliverables. We take approval from client on each stage.
Fixed scope and no flexibility

Work delivered as per milestones

Fixed cost and timeline

Pay when the target is achieved
Versatile Prompt Developers
Outstanding projects delivered by Prompt programmers
Frequently Asked Questions
Still have questions ?
Prompt engineering creates effective prompts for generating text using Machine Learning models, such as those based on the GPT architecture. Prompts are the initial input the model provides, which it uses to generate text. Effective prompts can guide the model toward producing high-quality text relevant to a specific task or domain.
Prompt engineering involves several steps, including selecting relevant prompts, fine-tuning the model on the prompts, and evaluating the model's output.
Technologies used for prompt engineering include natural language processing (NLP) tools such as tokenization, text normalization, and part-of-speech tagging. Machine learning models such as GPT and BERT are commonly used in prompt engineering to generate high-quality text based on the given prompts.
A prompt engineer can be involved in building various applications across various industries. Here are some examples:
E-commerce application: A prompt engineer can ensure the application is easy to use, fast, and reliable, with features like quick checkout, real-time inventory management, and secure payment processing.
Healthcare application: A prompt engineer can work on a healthcare application that allows patients to book appointments with doctors, view medical records, and receive notifications. They can ensure the application is secure, scalable, and user-friendly, with features like patient tracking, appointment reminders, and telemedicine capabilities.
Our Subject Matter Expert team defines the project's scope, goals, and timelines and identifies the required resources. A project plan is typically created that outlines the project's key milestones, deliverables, and dependencies.
We assign resources to different tasks within the project based on their skills. It includes allocating prompt engineers to specific tasks and coordinating with other teams or departments.
We track the progress of individual project tasks and identify any issues or delays that arise. It involves project management software monitoring task completion and identifying bottlenecks or roadblocks.
We identify potential risks and develop strategies to mitigate them. It includes developing contingency plans for potential delays or setbacks and identifying and addressing potential project timelines or budget issues.
We maintain open communication and collaboration with clients, stakeholders, and team members throughout the project. It involves regular progress updates, status reports, and meetings to ensure everyone is aligned and informed about the project's progress.
We take feedback from clients and team members, analyze project data to identify improvement areas and implement process changes as needed.
We ensure the code and work quality of Prompt engineering work by implementing code review processes, conducting regular testing and quality assurance checks, establishing clear coding standards, and providing ongoing feedback and coaching to prompt engineers. Additionally, We use automated tools and techniques to identify and prevent common coding errors and security vulnerabilities.
Our offerings comprise maintenance and support after launch, which covers bug fixing, performance optimization, security updates, feature enhancements, and continual technical assistance. The Service Level Agreement (SLA) outlines the terms and duration of support, clearly defining the parameters of the support agreement.