Client Requirements
The client is a US-based specialist committed to providing better insight and clarity to patients and providers through AI value-based care. The client wanted a value-based AI health assistant. The client desired a solution that would attract, engage, and empower patients to receive the quality healthcare they deserve.
The client was looking for a solution to provide patients with on-demand answers to medical questions. The client was seeking a solution that could provide customized, comprehensive care at every stage of the patient journey and quality treatment advice for various conditions an AI-powered predictive and preventative care platform for value-based healthcare.
Thinkitive Solution
The requirement analysis (discovery) phase was initiated by Thinkitive's business analysts and subject matter experts. The creative team met with the client several times, creating detailed requirement documents and multiple use cases. Thinkitive proposed creating a solution that could serve as an EMR, patient engagement, and remote patient monitoring solution. Thinkitive performed admirably and quickly developed a solution capable of treating patients virtually and allowing doctors to track patients' health continuously.
The team proposed a unique AI health assistant solution that is user-friendly and clinically robust, making quality healthcare more manageable than ever. The team proposed a solution to process numerous advanced clinical algorithms, combined with several symptoms, physical signs, and past medical history in less than a half-second.
From start to triage, this situation would take less than 90 seconds. With 94% accuracy and over 10,000 symptoms and conditions. A solution that can provide patients with relevant information and treatment recommendations for various conditions.
A solution that would personalize the patient experience based on their specific symptoms, medical history, and other factors. The creative team also helped the client integrate different EHRs with the solution.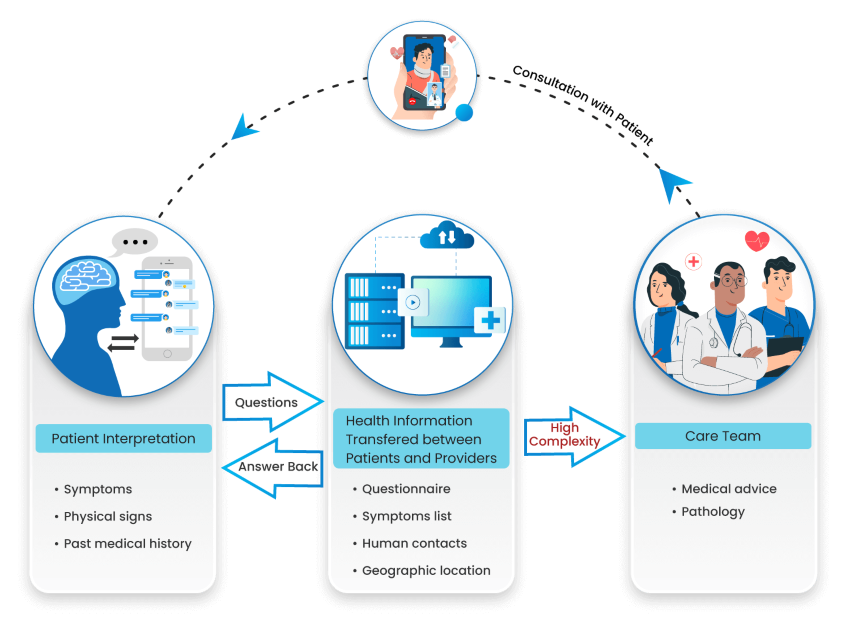 Solution Highlights
Engage patients with an AI health assistant :

Patients can interact with an AI assistant through audio or text, making care more natural and accessible. The solution provides AI assistance to patients via a digital human or a text-based chatbot. The solution is capable of providing on-demand answers to patients' medical questions. The solution actively engages patients and streamlines the follow-through process with the following steps, making it easier than ever to provide quality care.

From symptoms to triage from anywhere and anytime :

Patients can explain their symptoms to the AI assistant in a minute and receive personalized healthcare insights with recommended next steps. The AI assistant helped patients transition from symptoms to triage.

Patients can typically explain their symptoms and get an answer to their questions while the AI assistant processes countless combinations of symptoms, physical signs, past medical history, and more. The solution is based on a Medical Knowledge Database that is 94% accurate. The solution can recommend appropriate labs, physical signs, triage, and other services.

Connect with patients anytime :

The solution enables providers to create calendars and easily make appointments at their leisure. It is easy for providers to create a calendar for weeks or months that includes break hours, block days, and an option to edit availability later. Providers can schedule appointments with current patients or create new patients directly from the appointment screen. The provider or the patient can reschedule or cancel the appointment and suggest the next available time to book the appointment.

An ultimate AI telehealth solution :

The AI-powered telehealth application allows patients to check their symptoms, schedule a telehealth appointment and meet with their provider via video call. The solution can send detailed notes before patient visits, saving time.

Secure, HIPAA-Compliant Video Consultation And Messaging :

Patients can communicate with providers at any time and from any location. Users can communicate and share medical records via the HIPAA-compliant chat feature. Secure, uninterruptible video consultation with the option to view the patient's medical history while on the phone for the best care.

Patient Education :

The solution provides an engaging approach to medical education. Solution features allow providers to assign patient-related condition education. Providers can educate and send several condition-related documents to train patients.

HIPAA-compliant secure data sharing :

HIPAA-compliant messaging to communicate with providers and share medical records over chat.

EHR integration using the mirth connect platform with Athena and EPIC EHR :

The solution has been integrated with multiple EHRs. The solution allows for simple synchronization and exchange of patient medical data between EMR and EHR. The provider can pull and push patient information, such as clinical data, demographics, and insurance information, schedule appointments, summarize encounters, and obtain provider and department information.
Value Delivered
Simple installation and integration.

94% Accuracy in Triage.

Instant access to symptom-related questions.

Relevant medical information in a simple format reduces errors and improves accuracy.

A conversational interface that is engaging.

Reminders for medication and treatment.

Reduce readmissions and unnecessary visits with personalized educational content.

More effective utilization of clinical resources.

Easily retrieve patients from EHR.

EMR and RPM solution that is highly scalable and secure.

RPM care programs that are adaptable.

Connect with patients and providers at any time and from any location.

HIPAA-compliant video consultation and messaging that is secure.

It is simple to integrate any other workflow with any EHR.