Custom Revenue Cycle Management Software Development
Development Services -

Team, Timeline & Cost

We offer custom revenue cycle management software development services from start-ups to large corporations. It assists companies manage their financial processes, from billing and invoicing to collections and reporting. Custom RCM software development services can help businesses with improved efficiency and accuracy of the revenue system. We seamlessly integrate with other systems, such as accounting, payroll, and ERP systems.
Team
Development Team
Project manager ( No cost )
Business analyst ( No cost )
Cost
Features Included
Quick Insurance Verification
Superbill with Medical Coding
Claim and Denial Management
Automated ERA and EOB Posting
Robust Analytics and Reporting
Seamless Third Party Integration
Timeline
Development Lifecycle
Discovery ( Duration: 1 - 2 Weeks )
Engineering ( Duration: 4 - 6 Months)
Testing ( Duration: 4 - 6 weeks )
Deployment ( Duration: 1 - 2 Weeks )
Say Goodbye to Revenue Loss. Get Custom Revenue Cycle Management Software Today!
Features of Custom
Revenue Cycle Management App
Take your clinic online with an end-to-end customizable healthcare revenue cycle management services.
Pre-authorization and eligibility verification
Verify patient insurance coverage, check for plan exclusions or limitations, and minimize the risk of claim denials.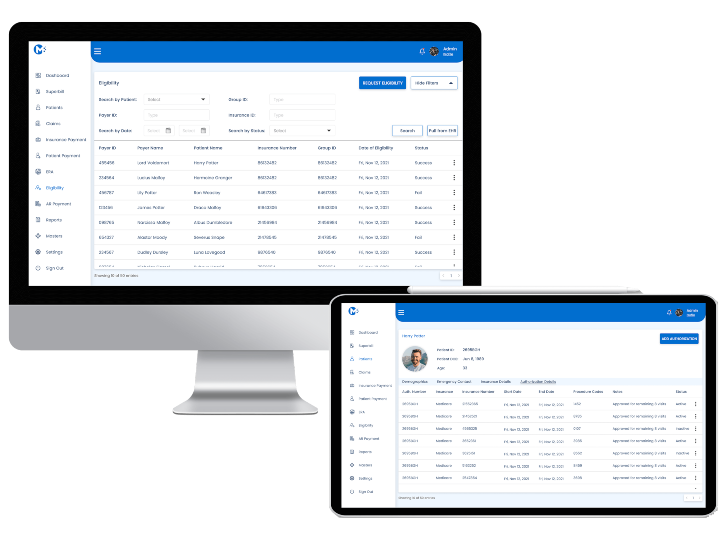 Accessible collection of patient demographics and Insurance information
While onboarding patients into RCM, providers can quickly collect patient demographics and insurance, family and payment details.
One-click insurance verification through payer integration
Integrating with payers allows practices to complete insurance verification in a single click. By entering insurance details only, billers can verify whether insurance is valid or not.
Multiple insurances give you more options for reimbursement
The ability to maintain multiple insurances for a single patient gives the practitioner more options to recover expenses quickly.
Insurance preferences make claim processing easy
Setting up patient insurance preferences will assist providers in applying for the proper insurance by authorizations and eligibility. The maximum reimbursement will be possible with a single claim, thanks to this.
Same day Pre-authorization and eligibility checking
Providers can request pre-authorization and eligibility from the payer for any required procedure to be done on the patient. Healthcare providers can get a response within hours on the same day.
Ability to add a card on file and easy co-pay or self-payment
Easy-to-pay providers can keep track of patient card information for future payments.
Advanced medical coding and superbill management
Automated CPT code suggestions, real-time code validation, and code-specific reimbursement information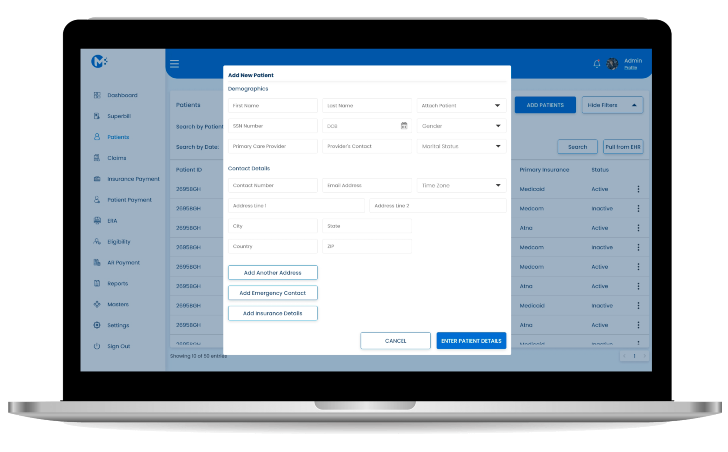 Pull bills and encounter information from EHR
EHR integration allows providers to fetch bills from multiple EHRs and healthcare platforms which need to be submitted for claims. Also, providers can create a new encounter in RCM by referring to a hard copy of patient encounter information.
Quick superbill creation with auto-populated encounter information
Superbill can be created by selecting a particular patient encounter. All encounter details will be auto-populated, and no need to re-enter detail. In addition to that, providers can create superbills manually by filling required details.
AI-based automated medical coding
AI-based automated coding will reduce ambiguity and improve the accuracy of the bill. ICD and CPT codes can be auto-populated by entering only the required description of the diagnosis and procedure.
Auto charge capturing reduces human errors
Providers can record their fee schedule for each service provided, referring to CPT codes. As the CPT codes are entered into the super bill system can auto-fill charges automatically from the appropriate fee schedule.
Taking the patient's finances into account
While generating the superbill, the system considers all the past dues and advances paid by the patient. It provides an estimate of the patient credits.
Cut down on provider efforts by attaching a document to a superbill
Providers and billers can cut back on the time they spend printing and shipping papers for claims and superbills.
Simplify your Medical Billing with Revenue Cycle Management Software
Hands-free claim submission and Denial Management
Improve the accuracy and efficiency of their billing processes, reduce the time and effort required to manage claims and denials, and accelerate payment collection.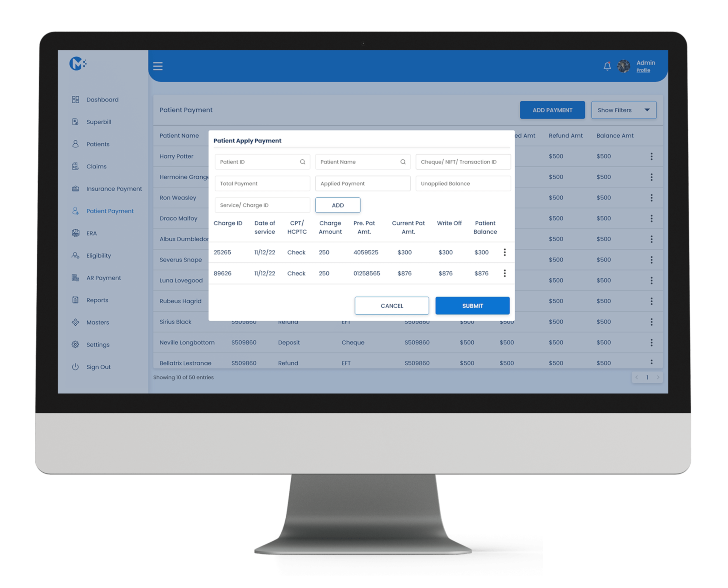 Submission of claims with a single click and auto-fill
A specific patient encounter can be chosen to make a superbill.
You won't need to enter any encounter information again because it will all be automatically populated.
Additionally, providers can manually construct superbills by manually entering the required data.
Auto claim scrubbing reduces human errors
Before submission, automatic AI-based scrubbing will eliminate claim issues and lower the refusal rate. The scrubbing procedure allows for the verification of all spelling mistakes, medical codes, and costs.
Electronic claim submission, along with the paper claim
Providers can submit claims electronically directly into the payer portal. In addition to that offline paper claims like CMS1500 claim form can be downloaded and printed.
Online claims tracking and follow-up
A submitted claim can be tracked online by checking the claim status at the payer's end. In addition, the provider can take a follow-up through emails or calls for pending claims from the payer's end.
Secondary claim processing to get more reimbursed
If any patient is facing complications while submitting the primary claim, then the patient can apply for a secondary claim.
Actionable Deniel analysis and claim resubmission
Providers can view the rejected or denied claims and analyze it to find the root cause of rejection. They can take preventive action to reduce such claim denials.
Automated payment processing and ERA/EOB posting
Real-time ERA/EOB tracking and reporting, and analytics to help identify and manage claim and payment discrepancies.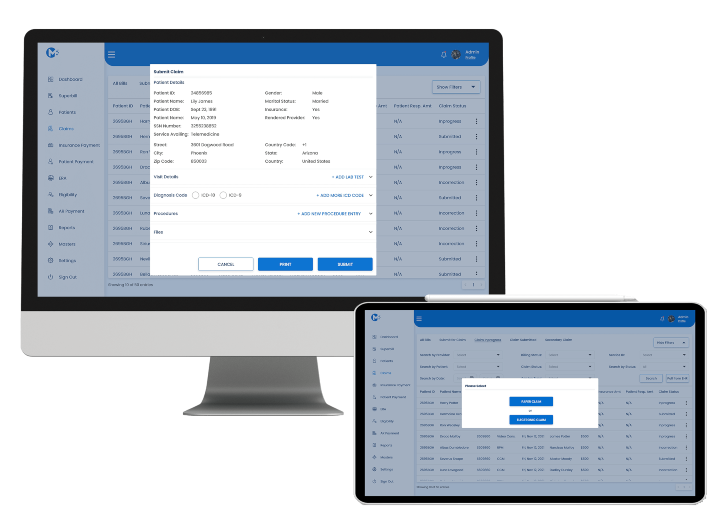 Account receivable statistics with aging and follow-up
Providers can view the account receivable payment status with due age from the date of services. Providers can view the report and graphical form for better understanding.
A comprehensive analysis of the receivables assists in creating a strategy for payment collection
The analysis of account receivables by providers might reveal overdue payments and their causes. Based on the data, providers can create a strategy to stop payments from aging beyond due and enable early payment collection.
Auto reminders for due payment
Configurable reminders can be set to take follow-up of due payments from patients and payers. The system can automatically send an email notification to the payer and patient as per the configuration set.
Custom payment policy
Providers can set payment policies for each patient, like payment terms, mode of payment, and discounts. These policies can be modified as per customer needs.
Detailed Claim specific ERA payment posting
Providers can apply payments to each claim in detail per ERA payment advice provided by the payer.
Automatic EOB Posting
In an automatic EOB system, healthcare providers have immediate access to the EOB data required to communicate with payers regarding updated or rejected claims. It results in early revenue recognition for transactions.
Revolutionize Your Revenue Cycle Management in Healthcare
Robust Analytics and reporting
Providing insights and data-driven decision-making capabilities to help healthcare organizations improve their financial performance.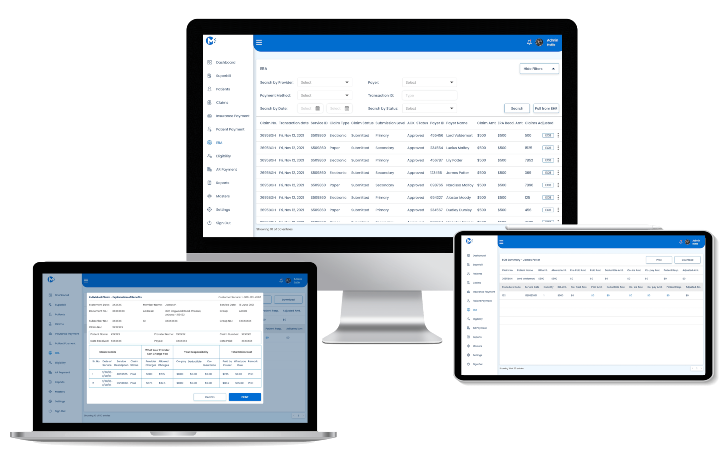 Informative dashboard presenting revenue stats
The provider's dashboard shows various information like revenue statistics, claim details, and account receivables. Also, providers can view alerts and notifications for any upcoming tasks.
Essential performance reporting will help to analyze revenue gaps
Key performance indicators may be assessed by examining comprehensive reports based on revenue earned and claims submitted and reimbursed. This included ICD codes, CPT codes, Lab test sets, and much more.
Reporting in multiple formats like graphs, lists, and numbers
Providers can view reports in multiple formats like graphs, lists, and numbers, easily exported into the xls, pdf, and CSV formats.
Auto report generation and presentation to management
The system can generate reports automatically per configuration and auto-populate on the management dashboard or mail.
Configurable reports reduce repetitive efforts
Recurring use of these reports saves providers time spent searching and applying filters to receive results. Providers can configure their reports according to their needs and specifications and save the configuration.
Quickly export reports in XLS, PDF, and CSV formats
Providers may quickly and easily export their reports into the necessary file types, including PDF, XLS, and CSV. This will lessen the providers' efforts to repeatedly obtain reports.
Integrating multiple EHRs, clearinghouses, and payers
Improve the revenue cycle process by streamlining workflows, improving accuracy, and providing better visibility into financial performance.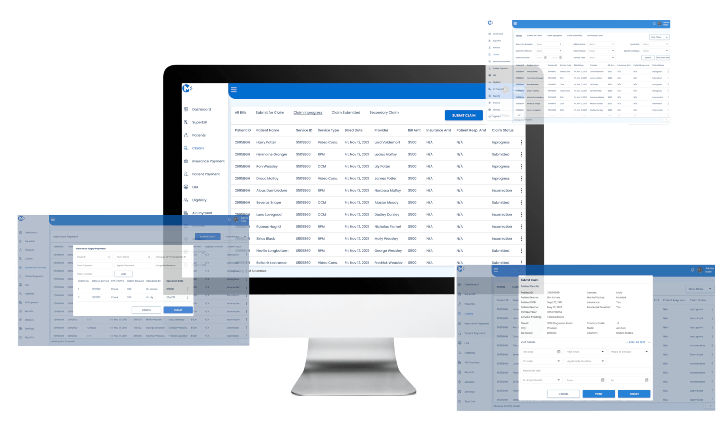 Fetch patient information quickly from any EHR & EMR
The RCM system can integrate with any EHR and EMR to access patient information from multiple EHR and EMR platforms. Providers can directly fetch reports, encounter summaries, and patient balances from EHR/EMR.
Reduce daniel's rate by integrating with the clearinghouse
An RCM system will allow you to create an electronic claim and submit it to a clearinghouse. Clearinghouses receive and review the claims for accuracy, and then electronically transmit the claim data to insurance companies.
Payer integration for insurance verification and authorization
Payer integration leverages automation in electronic claim submission. It directly fetches into the payers portal, making it convenient to take follow-ups through auto reminders.
Integration with multiple payment gateways
Multiple third-party payment gateways are integrated into RCM. It advances payments from patients as a co-pay or self-pay.
Push claims to EHR seamlessly
Providers can push electronic or paper claims data and relevant payment information and follow up details to any integrated EHR. it can be synchronous and asynchronous way. This will help providers to keep track of their reimbursement status.
Secure Electronic claim transfer with HIPAA compliant standard
Since the electronic claim transfer is in XML format and the clearing house converts it to EDI format before sending it to the payers, it should be safeguarded via HIPAA compliant protocall.
Take Your Medical Billing and Revenue cycle Management To Next Level
Revenue cycle management App
Development - Process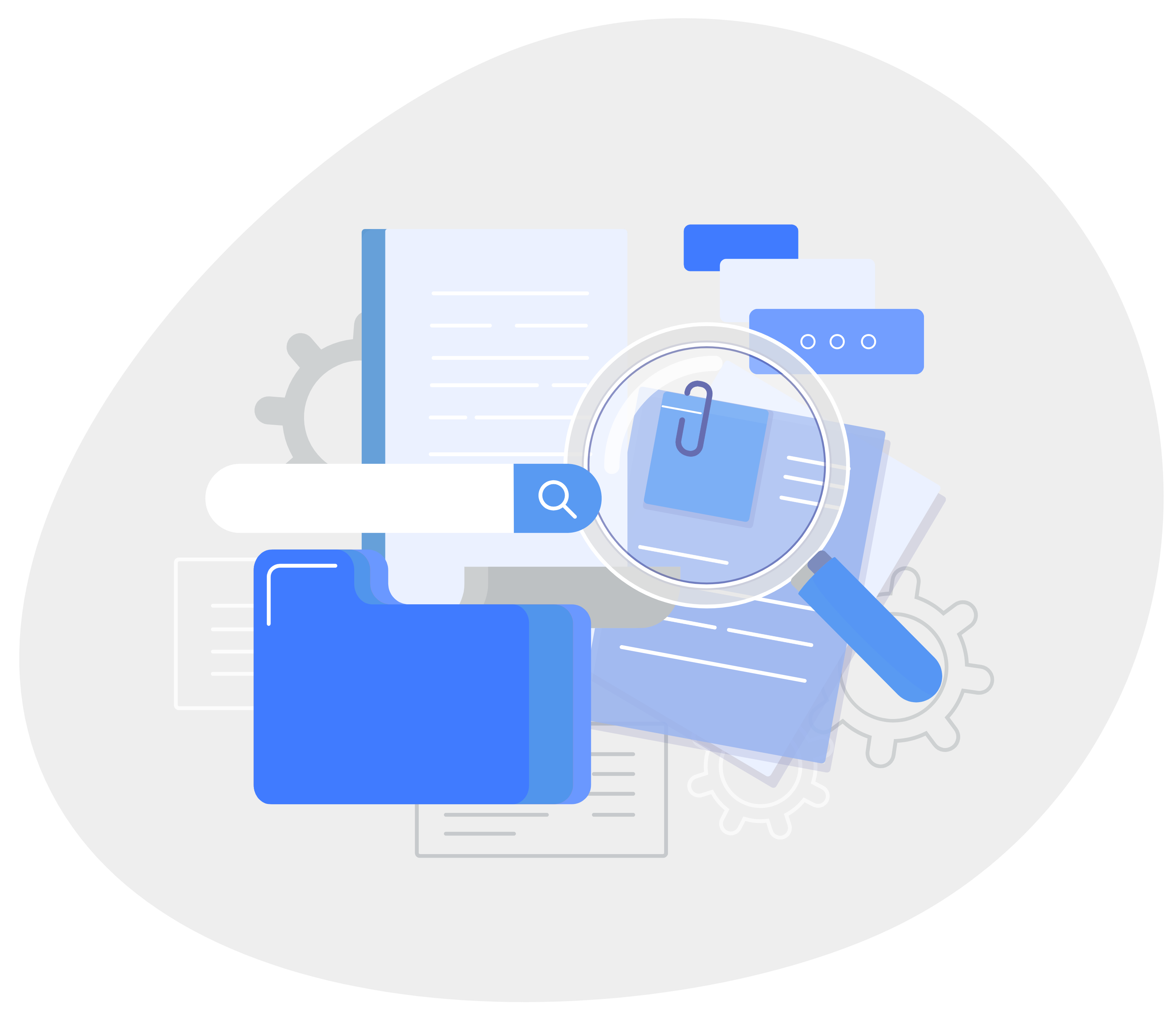 Discovery
( Duration: 1 - 2 Weeks )
The first step in revenue cycle management software development is to analyze the requirements. Our subject matter expert understands the end-user needs, gathers and analyzes user feedback, and researches existing solutions. Based on the understanding, our team creates wireframes and workflows to form the product development base.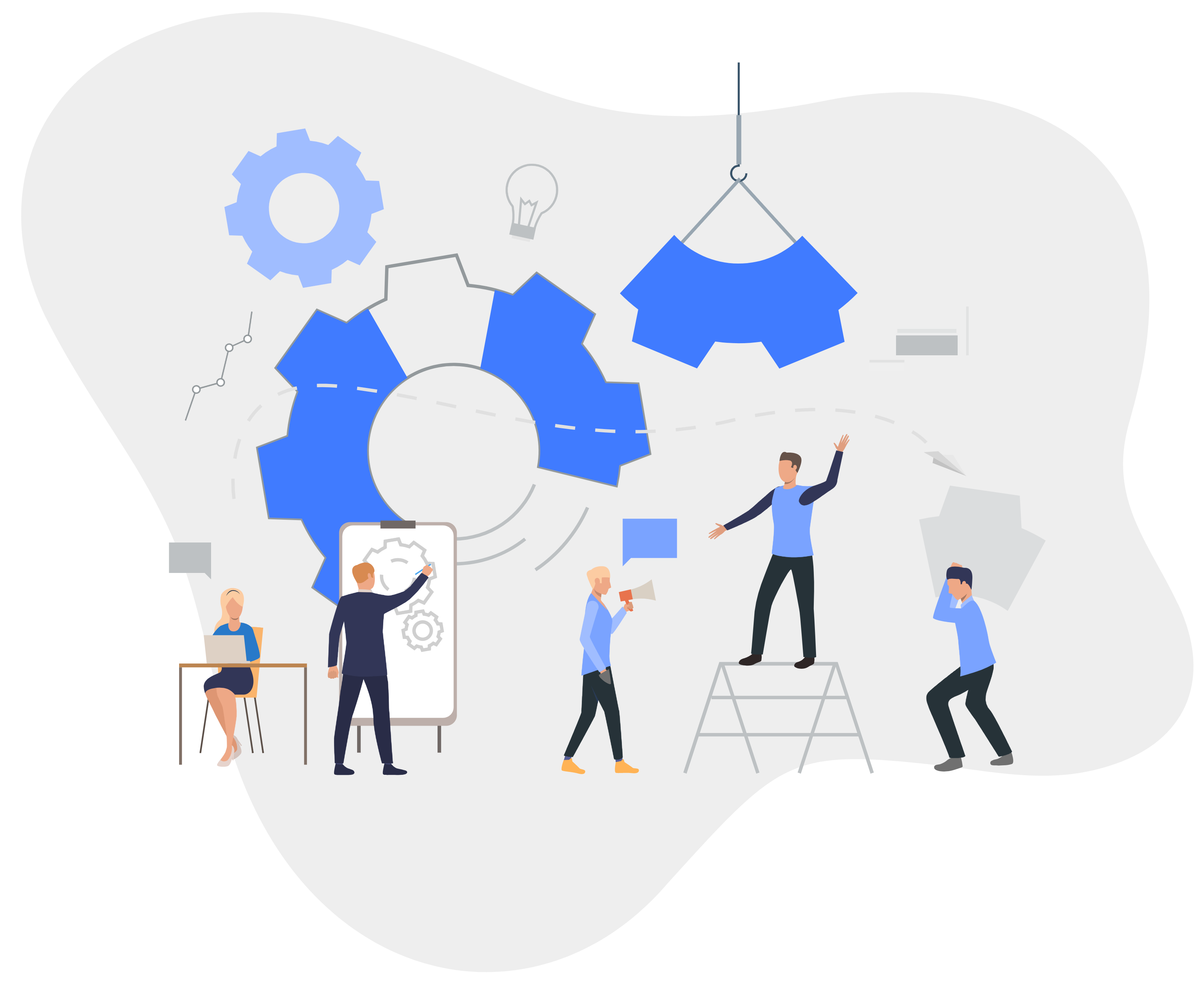 Engineering
( Duration: 4 - 6 Months)
After requirement gathering, the next step is to design the app. It includes creating a dynamic UI/UX for patients and healthcare providers. Simultaneously our engineering team first creates sprint planning for your custom revenue cycle management software. It involves coding the app and integrating APIs such as patient data encryption, SSL Layer, and HIPAA-compliant servers.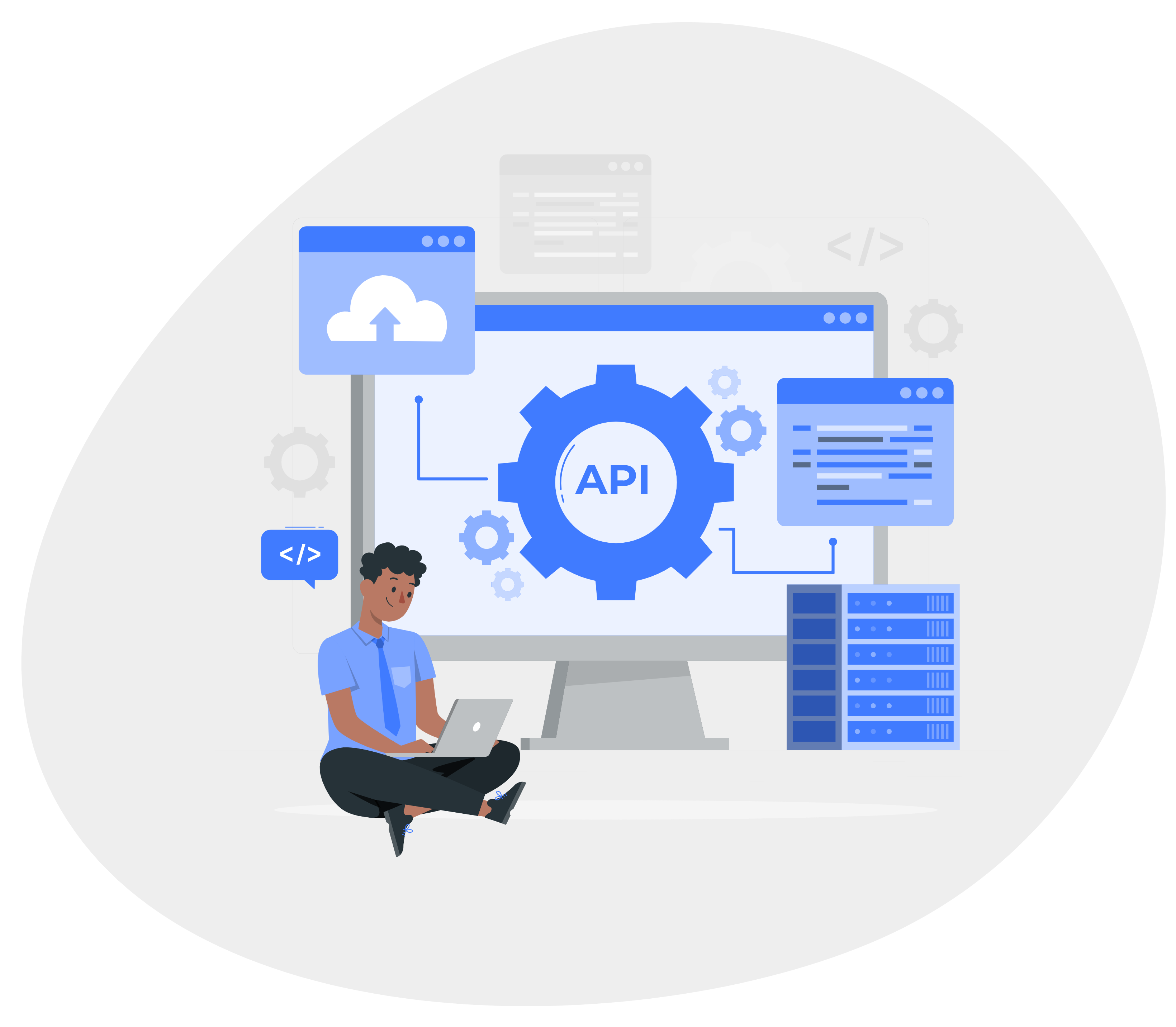 Testing
( Duration: 4 - 6 weeks )
Our testing team creates test cases for different workflows and user stories depending on the requirements. The testing team performs numerous cycles of combined manual and automated testing on a delivered revenue cycle management platform. We rigorously test all the features and functionalities and fix bugs quickly and efficiently if found.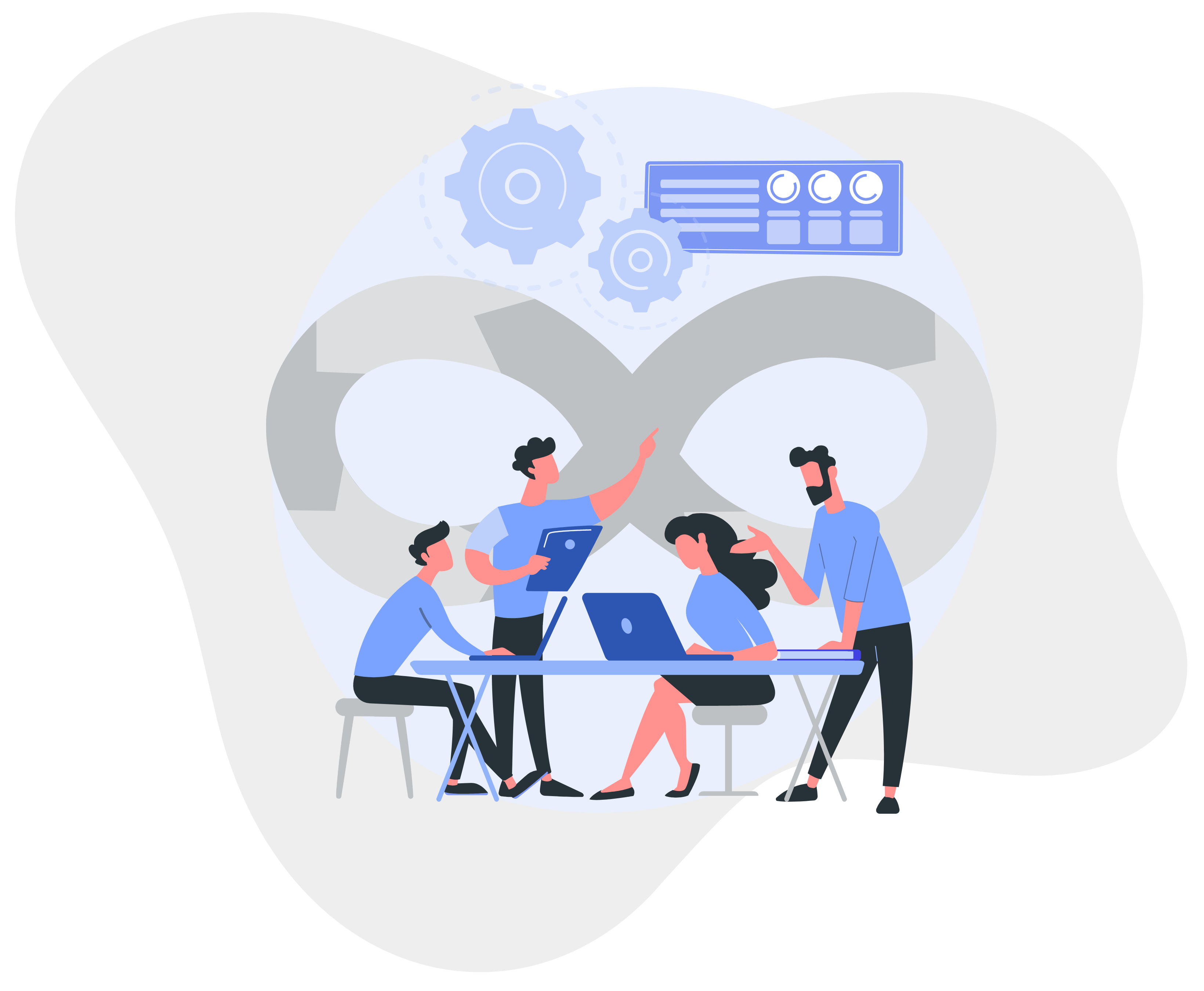 Deployment
( Duration: 1 - 2 Weeks )
Our team creates end-to-end CI/CD pipelines that enable us to deploy applications on the server quickly. We ensure your RCM infrastructure is secure and HIPAA compliant. We integrate the application into a larger entity or infrastructure, deploying the application on the necessary devices. Finally, we deploy RCM software in the right market, maintenance, and support.
Revenue Cycle Management
Development Cost
The cost of revenue cycle management app depends upon a multiple number of factors:
Requirements of revenue cycle management software
RCM app types and deployment platforms ( Web, iOS, Android, or Desktop ).
Add on features or components like ( Telemedicine, Remote Patient Monitoring software, and Chronic Care Management solutions )
User type supported by a system like ( SuperAdmin, Provider, Patient, or any other )
Visitor Volume in RCM app
Extracting payments for services
From $90,000
With all features
From $40,000
With reduces features
Get a Quote for your custom revenue cycle management app development
Get Quote Now
Reduce operating costs and streamline your revenue cycle management with our affordable solutions
Get Started Today with HIPAA Compliant
Revenue Cycle Management Software Development

Share Revenue Cycle Management project scope
Our team of business professionals will get on call to understand your RCM app development needs and create scope documents.

Get Project Quote & Timeline
Our technology team and business professionals work together to create detailed milestone wise project quote and timeline.

Finalized and Approved Scope
Our business professionals work with clients to add or remove features and finalize scope and quote for the project.

Contract Signing and Kickstart
Once the contract is signed, We assemble the perfect team to match your custom requirements and kick start your project.
Stay Ahead Of The Competition - Invest in Revenue Cycle Management Software
Tools & Technologies use to Develop

Revenue cycle management
Back-end
.Net, Java, Python, NodeJS, Php, Go
Front-end
HTML, CSS, Javascript, Angular, React, Meteor, Vuejs, Nextjs, Ember
Mobile
iOS, Android, Xamarin, Cordova, PWA, React Native, Flutter, Ionic
Clouds
AWS, Microsoft Azure, Google Cloud, Digital Ocean, Rockspace
Video
Wowza Streaming Engine, Azure Media Services, Media Services
Cloud Storage
Amazon S3, Amazon Redshift, Amazon DynamoDB, Amazon DocumentDB, Amazon RDS, AWS Elasticache, Azure Data Lake, Azure Blob Storage, Azure Cosmos DB, Azure SQL Database, Azure Synapse Analytics, Azure Kinect DK, Azure RTOS, Google Cloud SQL, Google Cloud Database
Back-end
.Net

Java

Python

NodeJS

Php

Go
Front-end
Languages
Javascript Frameworks
Angular

React

Meteor

Vuejs

Nextjs

Ember
Mobile
iOS

Android

Xamarin

Cordova

PWA

React Native

Flutter

Ionic
Clouds
AWS

Microsoft Azure

Google Cloud

Digital Ocean

Rockspace
Video
Streaming
Wowza...

Wowza Streaming Engine

Azure...

Azure Media Services

Media Services
Messaging And Conferencing
Sendbird

Contus...

Contus Mirrorfly
Cloud storage
AWS
Amazon S3

Amazon...

Amazon Redshift

Amazon...

Amazon DynamoDB

Amazon...

Amazon DocumentDB

Amazon RDS

AWS...

AWS Elasticache
Azure
Azure...

Azure Data Lake

Azure...

Azure Blob Storage

Azure...

Azure Cosmos DB

Azure...

Azure SQL Database

Azure...

Azure Synapse Analytics

Azure...

Azure Kinect DK

Azure RTOS
Google Cloud Plattform
Google...

Google Cloud SQL

Google...

Google Cloud Datastore
Why Thinkitive is the Best

revenue cycle management company?

We have an in-depth understanding of the healthcare domain & technology expertise. It allows us to provide suitable revenue cycle management software solutions to meet your custom requirements. We develop HIPAA-compliant custom revenue cycle management software, which assists healthcare providers and patients with a smooth payment reimbursement option. As one the top revenue cycle management software development company, we offer end-to-end RCM application development. We provide initial maintenance and support along with top-notch quality deliverables.
In-depth Domain Expertise
Thinkitive, the best chronic care management software development company. We has 8+ years of broad technical expertise and knowledge of HIPAA-compliant RCM software development. We deliver flexible, scalable, and robust revenue cycle management services.
Rich Feature with Customizable option
We have ready-to-use RCM components that can accelerate the development of RCM software. Some RCM components are Claims submission, Denial Management, Insurance information, verifying insurance coverage etc.
User friendly and Dynamic UI/UX
Intuitive UI/UX experience design with detailed information about RCM activities like steadfast submitting and processing claims, collecting payments, managing denials and appeals.
Cost effective and on-time Delivery
We provide cost-effective revenue cycle management solutions with on-time delivery of the RCM apps without compromising the quality.
Develop 100% Secure and Compliant Software
Being one of the best revenue cycle management development companies, we offer a 100% safe and secure RCM system in every aspect of standard regulations and guidelines.
Integrated with Multiple Payers & EHRs
We seamlessly integrate Revenue cycle software with multiple third party payers and EHRs. It increases overall efficiency and accuracy of the RCM app.
Take control of your revenue cycle with our comprehensive revenue cycle management software solution.
Revenue cycle management App Development
Case Studies
Revenue cycle management App
Architecture for HIPAA Compliance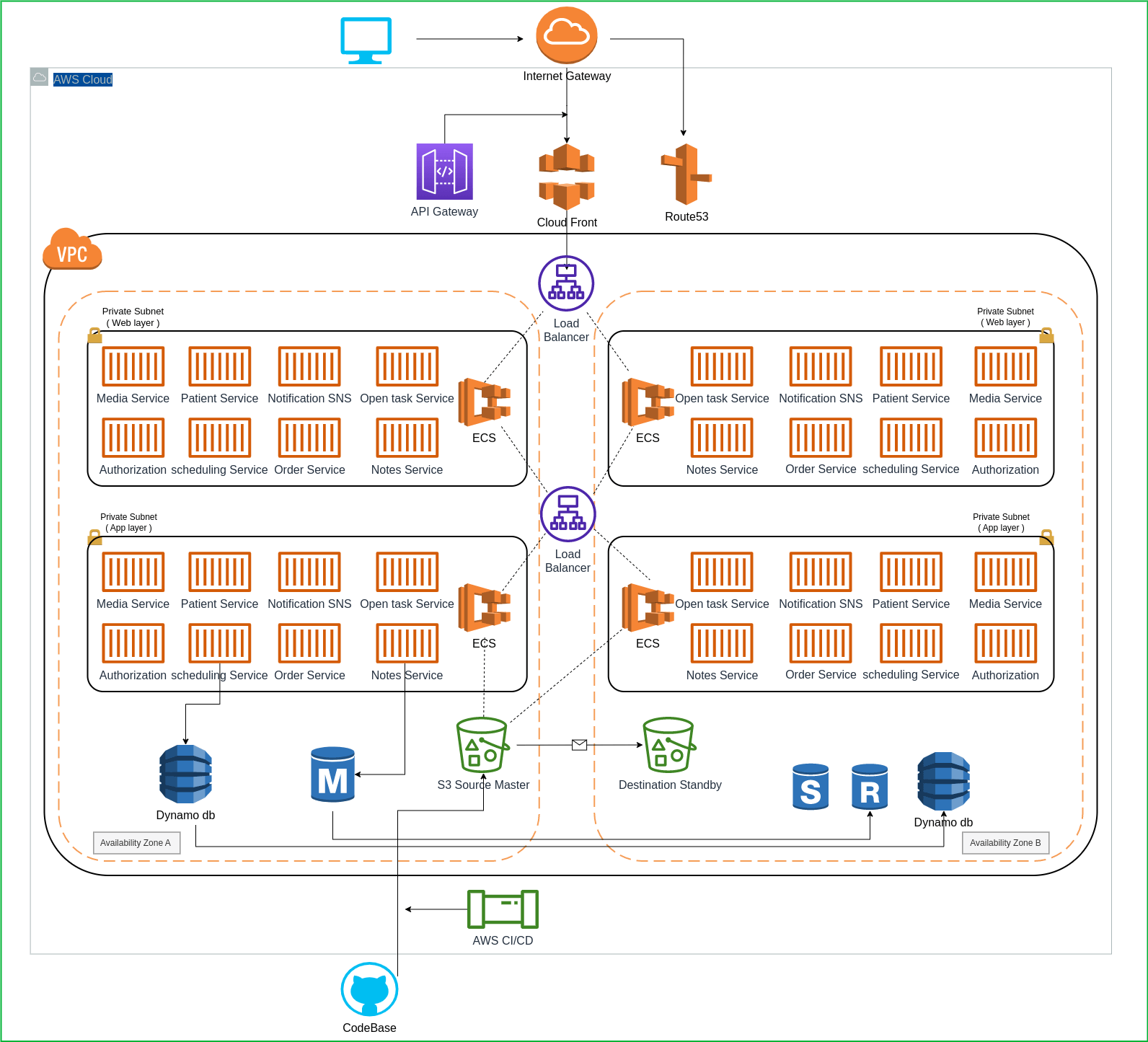 Secure Your Patients' Data with Our HIPAA Compliant RCM Software Solutions
Choose the Engagement Model that suits your

Revenue Cycle Management App Development
Time & Material Model
This model is suitable for projects where requirements constantly evolve or need clarification. You will need to provide the project's initial scope so we can create a phased plan.
Pay when milestone is achieved

Flexibility to change scope

Monthly report

Better control on cost
This model is used for engagement, where you must extend the team with remote resources. You will need to provide all the necessary skills required for resources.
160 hours of man-power

Monthly billing
Pay only for measurable work

Quick replacement
This model is suitable for projects where the scope is straightforward and, most importantly, fixed. You must specify the project's initial scope, and we will build phased planning based on it.
Fixed time duration and budget

Pay when target is achieved
No hidden cost

Post deployment support
Frequently Ask Questions on

Revenue cycle management app development
RCM services, or Revenue Cycle Management services, are processes used in the healthcare industry to manage the financial aspects of patient care. They involve billing, coding, claim submission, and payment processing to optimize revenue generation, reduce claim denials, and improve the overall financial performance of healthcare providers.
Revenue Cycle Management Software is a financial tool healthcare providers use to track and manage patient billing, claims processing, and payment collection throughout patient care. It streamlines and automates revenue-related tasks to improve efficiency and financial performance in healthcare organizations.
To improve revenue cycle management, streamline billing processes, optimize coding and documentation accuracy, reduce claim denials through thorough checks, implement effective patient payment strategies, and leverage technology for efficient data management and analytics. Regularly review and update protocols to adapt to changing regulations and industry best practices.
A Revenue Cycle Management (RCM) company is a specialized organization that assists healthcare providers in optimizing their financial processes. It handles various aspects of the revenue cycle, such as medical billing, coding, claims processing, and payment collections. The primary goal is to enhance revenue efficiency and streamline the financial aspects of healthcare practices, ultimately improving overall financial performance.
Revenue cycle management in healthcare is the process of billing for services delivered to patients. It also includes collecting payments from insurance or patients. The process begins with the patient's pre-registration in the RCM and ends with payment collection.
Revenue cycle management in medical billing is essential for the healthcare organization to secure timely revenue, consistent collections, and financial sustainability.
Outsourcing to an RCM provider ensures a consistent revenue cycle and improves cash flow. A/R (Accounts Receivable): A good RCM partner assists healthcare providers in following up on AR settlements from insurance companies.
Thinkitive has extensive domain knowledge using which we can develop customized medical billing and Revenue cycle management software with robust features.
The revenue cycle management process begins when a patient schedules an appointment to receive medical services. Once the organizations have received all claims and patient payments, the procedure is complete.
Telehealth App Development
Blogs