Client Requirements
The client is US based. A group of physicians wanted to excel at providing proactive healthcare solutions allowing patients to choose when and how they receive care. The client wanted to bridge the gap between providers and patients needing emergency care. The client sought a solution allowing the patients to receive care without their Specialist. The client was looking to develop a HIPAA-compliant Telehealth solution with the concept of having a care navigator in between to take care of the Patient in case providers are unavailable. The client's vision was to provide 24*7 care for the Patient at their fingertips. With a vision of the Telehealth solution, patients no longer need to drive to their doctor's office or clinic. Patients can connect from anywhere like a park, walk in, and sit in the waiting room when feeling sick. Using Telehealth to give access to your primary care doctor regardless of where the Patient is. The client wants to develop a mobile application for patients and a web application.
While developing a Telehealth application, the client had a significant requirement they wanted to add customizable patient-centric telemedicine features to their application. It includes Tele audio/ video conferencing, patient charting, chat, a 24x7 care navigator, and clinical details.
Thinkitive Solution
Thinkitive Business Analyst and Subject expert took multiple calls with clients and understood requirements. The innovative team created a portal for patients, providers, and care navigators, allowing patients to chat with the care navigator in an emergency or without a specialist. The system functioned as a telemedicine system, allowing providers and patients to schedule appointments and communicate with one another. Providers can onboard patients and enter their personal and other information, such as clinical, financial, contact, demographics, insurance, medical history, goals, medications, etc. The system enables the provider to create a care plan for patients based on the Patient's conditions. The system's differentiator was providing 24*7 care to patients at their fingertips 365 days a year. Care navigators would coordinate and guide the Patient virtually or in person, depending on the Patient's needs. Our team successfully delivered a system capable of retrieving data from an EHR, allowing providers and patients to chat and video call, creating customizable multiple care plans, and retrieving data from multiple EHRs.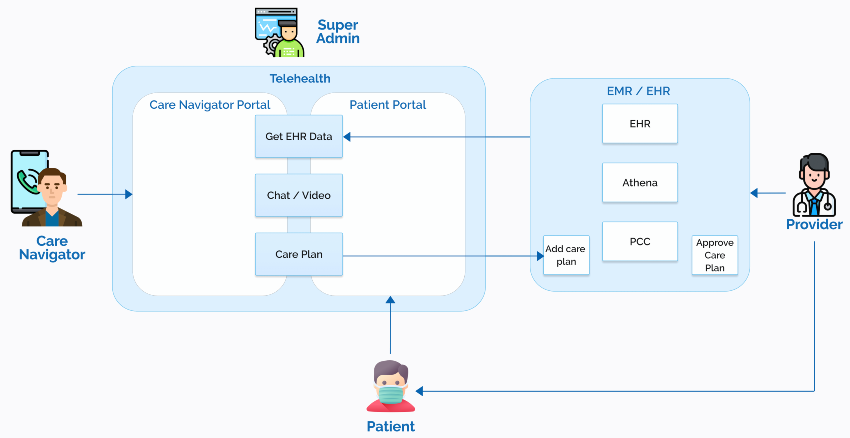 Solution Highlights for Customised Patient-centric care Program
Onboard Patient with ease

The system allows the provider to onboard new patients directly from the EHR or manually enter the new patient data. The provider key in Patient details like Demographics, Contact, clinical, insurance, medical history, etc.

Patient data is seamlessly extracted from the EHR

Providers can access patient information, addresses, insurance information, and other pertinent data directly from the EHR.

Appointment Scheduling & Availability Management

The system enables the provider to create an availability calendar. A physician's availability can be taken into account when scheduling an appointment. Providers can receive a daily email with a summary of all appointments for the day and separate reminder emails, and SMS messages for each appointment.

Quick access to the Patient's health record and EMR

The provider can track patient demographics, contact information, insurance, billing information, and documents. The platform stores medical history, diagnoses, medications, immunization dates, allergies, lab results, and doctor's notes in HIPAA-compliant environments.

Care is available around the clock, seven days a week

Patients can use the system to schedule appointments with providers anytime and from anywhere. When a provider or a patient requests to reschedule or cancel an appointment, the system will recommend the next available time. Patients can communicate with care navigators through the system if a specialist is unavailable.

​A powerful Telehealth Platform

The system allows patients and providers to store medical histories, diagnoses, medications, immunization dates, allergies, lab results, and provider notes in HIPAA-compliant settings.

Clinical Collaboration and Care Navigation

The system enables physicians to be available 24 hours a day, seven days a week, to improve patient care. The system provides care navigators to assist patients in scheduling appointments and refilling prescriptions. Patients can receive care whenever they want, and physicians can monitor them around the clock.

Excellent Patient Experience

The system allows for customizable patient-centered care plans that can be modified based on the Patient's condition.

Patient Health Records

Better decisions are made when the correct information is available. With access to Patient's health records, the system enables providers and care navigators to make informed decisions about their patients' care. The system provides comprehensive health records for patients, which you can access during consultations.

Billing & Reports

The system keeps track of the practice's expansion. Payments can be collected online, billing can be managed online, and revenue reports can be generated for your practice. An easy way to audit practices, assisting providers in determining which services work best for the practice.

Notifications

Communication is simplified. The system sends notifications about events that may be of interest to them. It saves staff time and eliminates the need to invest in multiple email and SMS communication tools. Configure notifications as needed to receive email and SMS notifications about appointments and events.
Value Delivered
Patients and providers will appreciate the comfort and convenience.

Timely care and lower cost.

Advanced monitoring, cognitive capabilities, clinical decision support features, life-saving protocol execution, and evidence-based critical care protocols improved Patient outcomes.

Thanks to the solution, patients no longer need to drive to their doctor's office or clinic. They just sit in park, walk in, and sit in the waiting room when ill.

Telehealth allows you to communicate with your primary care physician no matter where you are.