Client Requirements
The client is a USA based specialist group dedicated to providing the best personalised care in infectious diseases. Client wanted to develop HIPAA compliant telemedicine app for their network of doctors spread across the USA, in order to streamline and automate medical practices for specialists, general practitioners (GPs), and consultants. The requirements were to develop an application to allow for appointments and consultations for patients without a physical presence of specialists. The use of live video conferencing, peer-to-peer text communication and dynamic educational content will empower medical facilities to better treat their patient population. Patients' can also receive continued care from their specialists after they leave the facility. Develop varied integrated modules, such as appointment booking, patient record management, referral management system.
Thinkitive Solution
Thinkitive's team of business analysts and subject matter experts started with the requirement analysis ( Discovery) phase. Thinkitive team took multiple call with client and created detail SRS requirement document along with low fidelity wireframes. Thinkitive established a team of professionals with expertise in frontend and backend development. Thinkitive team leverage microservice based architecture and develop separate micro services for each module like patient service, provider service, appointment service and many more. Please find the diagram below for more details.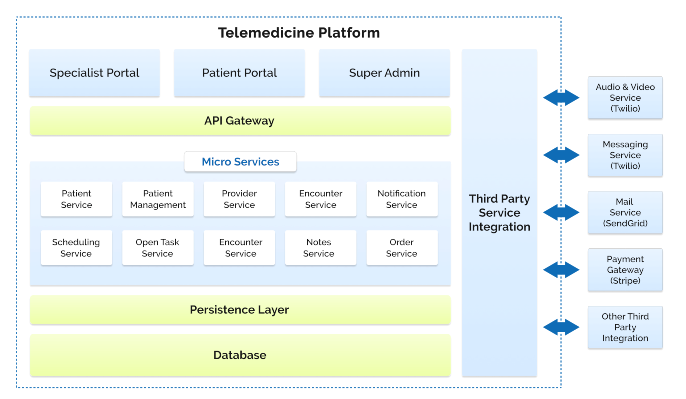 Solution Highlights
Instant Appointment Booking & Availability Management :

System allows the provider to set up an availability calendar. The appointments can be booked, depending upon availability of physicians at a point of time. Providers can get a daily email with all appointments for the day including summary with separate reminder mail and sms for each appointment.

Quick Access To Patient's Health Record & EMR :

Provider can track patient demographics, Contact information, Insurance and billing information along with documents. Platform keeps medical history, diagnoses, medications, immunisation dates, allergies, lab results and doctor's notes on HIPAA compliant environments.

Secure, HIPAA-Compliant Video Consultation And Messaging :

Platform providers secure, uninterruptible video consultation with options to view patients medical history during call for best care. HIPAA compliant messaging to communicate with providers and also to share medical records over chat.

Customised Patient Charting, ePrescription & SOAP Notes :

Providers can create custom SOAP notes format as per required unique way of engaging with patient to provider care delivery. Platform pushes SOAP notes, lab tests, radiology orders and prescriptions to configured EHRs after provider final sign off.

Engage Patient Through Portal & Mobile Apps :

Mobile app for patients to access care on a tip of a figure with options to take video calls directly from mobile.Patients can download or view notes, lab tests, radiology images and prescriptions written by the provider during visit.

Seamless Practice Management & Administration :

Practice can create each user with specific permissions so only required access will be given to staff members.Multiple reports and analytics dashboard to get detailed information on practice progress and make decisions to improve results.
Value Delivered
Enable patients to find the best specialist available across the entire U.S.

Increase provider efficiency to take secure and HIPAA-Compliant Video Consultation without physical presence.

Patient access to provider treatment notes, treatment notes sent back to the referring provider, shared screens and/or files during a virtual consult, secure and HIPAA compliant, and more.

Provider doesn't need to manage the EHR anymore, the provider can simply take note and push to the EHR with a single click.