Client Requirements
A client in the United States wanted to develop a Telehealth solution that would help employees working in the construction and manufacturing organization. In case they get injured on the job, they could be able to provide proper treatment at reduced cost using the world's only digital, virtual, and in-person healthcare delivery system. The client wished to assist organizations by providing a value-added service to their employees. The client was looking for a solution that would allow him to virtually treat his employees in case of any mishap, simultaneously track their charting and progress, and provide care 24 hours a day, 365 days a year.
Thinkitive Solution
Thinkitive's business analyst and subject matter experts initiated a discovery phase by doing requirement analysis, where the team worked on requirement gathering, carried out competitive research, and suggested a solution that best fitted the client's requirements. The creative team inquired with clients multiple times, created detailed functional requirement documents, designed low-fidelity prototypes, and received client approvals on time. Thinkitive assembled a team of front-end and back-end development experts. The creative team uses a microservice-based architecture and separate microservices for each module. The team proposed a solution allowing providers to communicate with employees anytime and from any location without visiting the clinics. Thinktives proposed an idea allowing a simple billing setup, custom plans for each team, and competitive tracking of team progress.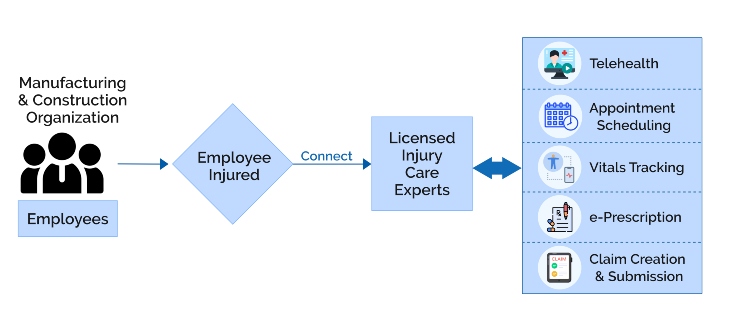 Solution Highlights
Analytics and Reporting

The system drives patient care with detailed analytical insight. It uses advanced reporting tools for clinical analysis and intelligent decision support.

Appointment Scheduling Made Simple

Providers can schedule appointments with current employee-turned-patients or create new patients directly from the appointment screen. The provider or the patient can reschedule or cancel the appointment and suggest the next available time to book the appointment. Providers could receive a daily email with a summary of all appointments for the day and separate reminder emails and SMS for each appointment.

Live Virtual Physical therapy

Providers can schedule appointments with patients and offer physical therapy. The therapy needs to be done by the patients, and the provider will monitor it virtually. The patient will be able to complete the errands as per the provider's guidelines.

Order medication online and receive auto-generated e-prescription

By selecting the appropriate delivery address and payment method, providers can easily order medications from the patient's preferred pharmacies. The system generates and sends e-prescriptions to patients while also keeping track of all prescriptions ordered to date.

Interactive calendar

The calendar is robust and adaptable while remaining simple to use. The system allows the provider to keep track of all upcoming appointments and events. To view the same, providers can switch from the default week view to a month or day view.

Track patient demographics and vitals

Track patient demographics, Contact information, insurance, billing information, and documents.

Patient Charting

The provider could be able to complete a patient's clinical data and view medical history records. Patient charting includes demographics, vital signs, diagnoses, medications, allergies, lab/test results, treatment plans, immunization dates, progress notes, and other details.

Virtual and In-Person Meetings

The patient can encounter the preferred providers. The system allows providers and patients to select a person or virtual appointment.

Patient Access Portal

Patients can use their patient portal to access their appointments, medical information, saved visits, and lab & radiology results. Patients can use a mobile app to access medical care on the go, with the option to make video calls directly from their phones. During the eVisit, patients can download or view SOAP notes, lab tests, radiology images, and prescriptions written by the provider. Configure notifications as needed to receive email and SMS notifications about appointments and events. They can modify notifications settings as needed to receive email and SMS notifications about future appointments and events.
Value Delivered
Patients and providers are working together more closely.

Virtual physical therapy under the observation of the provider

24/7 access to health data

An appointment with a provider is only a click away

Patients' progress tracking has become much easier and more accurate

Improved patient access, integrity, and satisfaction